Name: Claire Carr
Job Title: Marketing Executive 
Office: Dublin   
Joining date: November 2014
Department: Marketing
Week one
What a way to spend my first time in New York!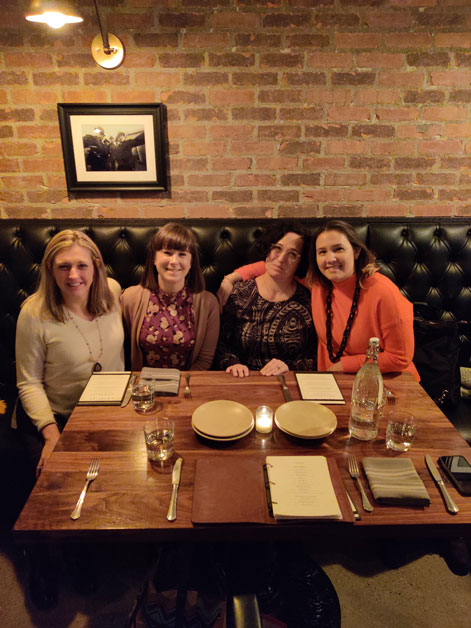 I was very kindly invited to go on a secondment to the New York office by the Chief Marketing Officer of RSM US LLP but couldn't believe that the dates he suggested fell directly after the holiday to NY I had booked months previous. This fantastic timing resulted in me walking the legs off myself for 7 days, squeezing in every tourist attraction I could before being welcomed into the fabulous surroundings of RSM New York.
As well as a great opportunity for collaboration between member firms, I suspect the team were especially pleased to host my visit as they moved office just a year ago and is the new office something! Spread across 3 floors of 4 Times Square, each level is spacious and bright, with break out areas, small private snug-like rooms for calls and glass walls and windows looking out onto the busy streets below.  The reception area is like something straight out of Suits. In fact, a scene of the Showtime series Billions was filmed in the office! To accompany a lovely interior, the office boasts a 19th floor terrace, overlooking Times Square and is just a stone's throw from where the ball drops at the strike of midnight on New Years Eve. Hopefully I get an invite back to the NYE party!
My main contact in the NY office was the Head of Marketing who has a team of 200 under her – quite the contrast to our team of 3. Her people span over teams such as digital marketing and web development, corporate communications, advertising, event management, and more. So she was certainly a good person to be put in touch with. She linked me in with members of her team that had run-of-the-mill meetings scheduled during my stay so I sat in on those meetings to get an insight into how they work and what they are planning.
I found it interesting to hear about the opportunities that a larger firm can take advantage of, such as the sponsorship of the global tech/innovation platform Plug and Play, hosting regular roundtables and facilitating deals between entrepreneurs and investors in association with the group. In tandem, it was surprising to hear that the marketing team face similar challenges as the Irish marketing team. As they operate on a larger scale, learning of their solutions was useful with the intention of scaling them down and executing them at home.
It was great to get to know my colleagues from across the pond in this professional environment, but I also had the chance to connect with them over lunch and dinner. Being brought to eat where real New Yorkers eat was certainly a perk of my trip.
A secondment opportunity to link with these colleagues was an exciting part of my year and is testament to being part of one of the largest global providers of audit, tax and consulting.
Week two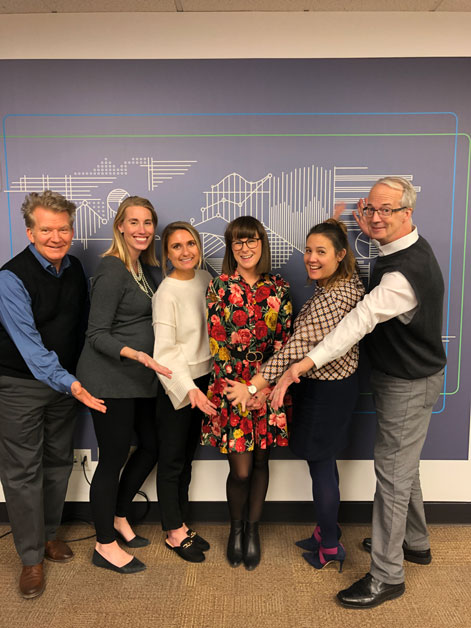 After getting to know the people in the New York office, I was on my way up to the US Headquarters in Chicago for a week.
Although my visit was too early to see their new office (they are due to move in late next year) the people certainly made up for it. I was warmly welcomed, introduced to everyone and settled into my desk on the snowy Monday morning. My diary had already been populated with meetings, lunches and dinners I was due to have. I had a busy week ahead!
My role in Ireland varies broadly - I work across digital, event management and design. The Chicago office houses the national marketing teams so I had a chance to discuss a broad range of strategies and campaigns. I began with lunch with the Head of Communications. She gave me an overview of how the teams within marketing collaborate with each other and with the 'client-serving' teams. Utilising the limited time that Partners and Directors can dedicate to marketing is a struggle for all marketeers so a chance to discuss her experiences and adaptations was very valuable.
Through-out the week, I met with people from all specialities from industry-specific and service-specific marketers to social media marketers and editors. I had meetings about producing video, the evolution of the RSM brand and building the RSM Experience message. I even met people with a broader focus than mine, like the Innovation and Strategy Director and the Head of Business Development for the region. 
Learning about what they do, how they approach situations and what they have coming up was thought-provoking. But wrapping my head around how all these teams integrate in the 5th largest accounting and advisory firm in the US was fascinating. All of these teams need to collaborate with each other and collectively support the client servers and local teams around the whole country. Coming from a significantly smaller office, it was great to experience that in action. Staying efficient with such a large group of people requires continuous review. The Sales, Marketing and Corporate Communications teams have just undergone a realignment of responsibilities  to ensure optimum use of everyone's time. It was an insightful time to visit!
Of course, gathering ideas from such an ally is one thing but implementing them in a different market with a smaller pool of resources is another. Talking through how projects were formulated was an important part of my meetings. Understanding the inspiration and thought processes behind campaigns allowed me to pick out the elements that could work for the Irish team and market.
The opportunity to travel and learn from another RSM member firm is a valuable boost to my career development but the benefits of the trip don't stop there. Every day I had to walk into a strange office to meet new people. I was able to develop my networking skills in a way that I might never have got an opportunity to do in the Irish office. All in all, I think the experience was testament to what can come from putting yourself out of your comfort zone.
Week 3
I had the honour of rounding my trip off with a visit to Sea Island, Georgia, to witness the RSM Classic in action!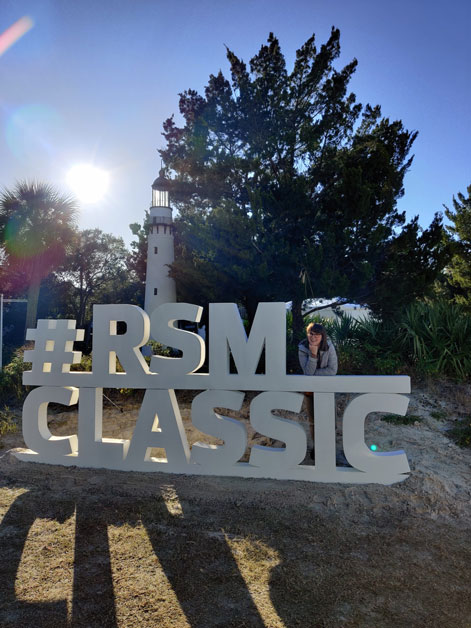 It was lovely to finish up here as there were loads of familiar faces from New York and Chicago. However, there was no denying that everyone working at the event were always busy, making sure everything ran smoothly for their guests.
For those who aren't familiar with it, the RSM Classic is a golf tournament on the PGA Tour and is hosted by the Davis Love Foundation. RSM have sponsored it now for 10 years and are aligned closely with the event and the foundation. RSM and the game of golf share certain core values, notably excellence, integrity, respect, teamwork and stewardship. Giving back to the community has been a part of the firm's history since its inception in 1926; it's also an integral part of golf.
The energy was palpable around how much money the firm and the foundation had raised over the previous 9 years. And suspense was building for the reveal of how much had been raised for the 10th year. It was a whopping $3.8m bringing their grand total to $16.8m! The fund goes towards local charitable organizations. This commitment to giving back was clearly appreciated by the community and after 10 years of this bond being formed and strengthened each year, there was an almost family-like atmosphere around the island.
As well as the chance to bask in the grandeur of the event, it was a great opportunity for me to catch some people I hadn't had a chance to meet but had heard of during my meetings. Again, it was a great opportunity to develop my networking skills, to open and lead conversations. Good job I looked up a few bits about golf before I arrived!