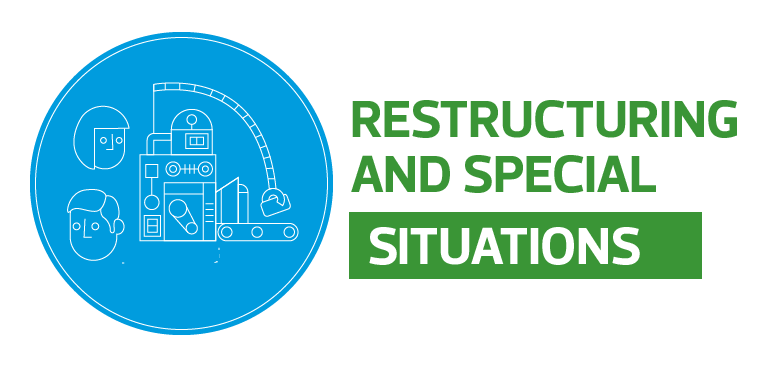 Business Unit Restructuing & Special Situations is made up of a very united team of people, very much focused on corporate-related aspects, i.e. Turnaround as well as Merger&Acquisitions (M&A), with creative approach for companies in difficulty. Such focus does not prevent skills from the same team also in financial and juridical field, as well as bankruptcy procedure. Such specific skills are completed by an external network of professionals in the legal field.
The range of services provided by BU are completed by further current innovative activities we will describe later, especially for the time we are living today.
TEAM
To face challenges, support changes and support businesses, we have identified a team of professionals with the best skills:
Raffaele Salese - Raffaele has been a Partner at RSM since 2018. He is the national CRISIS and Forensic Manager. 
SERVICES
Restructuring / Turnaround
Creation of redevelopment plans
We serve as Financial Advisor by providing Restructuring Corporate Plans in the bankruptcy procedure or voluntary restructuring/winding up field, with special focus on corporate, industrial, business and strategic aspects, following the indication of financial institutions or independently on client side.
Corporate Governance of companies under restructuring
We take up positions as Board Members, member of Board of Statuatory Auditors and Liquidator of companies in crisis, in particular following the indication and in the interest of Banks and/or Financial Partners, based upon specific and qualified previous experience.
Operational Assignment (CROs)
We operate in situations of particular corporate difficulty or for fiduciary reasons as Chief Restructuring Officers (CROs), especially in specific industrial sectors where we have specific experience, both through proxy and counseling mentoring activity to entrepreneurs and top managers of the company in Turnaround most critical phases. We have experience in managing Trade Union Relations in complex corporate settings.
Distressed M&A
Buy-side or sell-side assistance of Targets set by companies in crisis; we have the following competitive advantages:
team creativity, so as to find innovative and cross-sectorial solutions;
an appropriate network of industrial and financial relations;
negotiation skills and specific experience in Transaction services.
We can also count on RSM network international presence, to be found in 120 countries.
Workers BuyOuts (WBOs)
Active partecipation of workers in companies' capital becomes, especially in the current situation, a crucial instrument, both for relaunching companies in crisis and for continuity of family ran companies without management successor. The wave of opinion movement is increasing internationally that pushes for «company democratization»: WBO is one main operations through which this can be possibly done, and RSM team is dedicated to follow its evolution as well as promoting its implementation, following best praxes.
Please see the recent webinar on this topic organized with Economy Group and held on December 4 2020.
Restructuring/Turnaround versus Green-Circular-Digital Economy
Especially in the current situation and in compliance with Next Generation UE stringent objectives, companies in crisis or in bonis require in their mature phase to rethink their own strategy and positioning on the market. RSM Team, supported wherever necessary also by engineers and technicians with specific energy, environmental and technological skills, as well as process efficiency, can promote companies repositioning towards effective sustainability, by acting in all industrial phases (planning, supply, sales, delivery, customer service), also through innovative cooperation with other companies vis a vis sectors like business network. It offers support to its clients in very close sinergy with RSM other theam dealing with soft financing for large projects.
UTP/NPL single name support
RSM Team assists financial investors (funds specialized banks) for managing single relevant positions, to create corporate redevelopment, reconversion and repositioning activities and/or single smaller size technical activities, like overall audit activity of the company, information systems or limited reviews on specific financial statement items.
In Restructuring field, Forensic & investigation team is active in case of pathological aspects and criminally relevant behaviours, even if only possibly or against the interest of both clients and or his partners.
Assurance
Companies assessment and Fairness Opinions
The main activities of this segment deal with corporate independent assessment so as to perform extraordinary operations and/or to give independent opinions vis a vis consistency of values to create in the planned transaction in the field of corporate crisis.
Corporate plan acknowledgment
We provide our judgement independence and autonomy to provide realistic and credible opinions in the field of bankruptcy procedure or voluntary restructurin/winding up.
We can also count on the support of Audit team, for more complex cases and when time available is limited using from time to time an adequate number of human resources good for reaching time and qualitative objectives set by our client.
"Controllo Analogo" – Deep Impact Control of Inhouse providing Companies, in the Public Sector
The European Legislation and the deriving Italian Legislation imposes to the Public Sector, when a public service is provided through a majority controlled company (so called "Inhouse Providing"), without assigning such service through a public tender, to exercise a very deep-impact control on its partecipated company  (we may literaly translate the Italian word "Analogo", with Analogous or Similar, meaning that such control on an external legal entity is equal to the one that the Public Entity should have exercised on its own department, when the service is internally provided).
 "Controllo Analogo", in its execution, is very interdisciplinary and, for many aspects, rooles, methodologies and tools from auditing and consulting may be duly applied.
For this reason and for a strong and unsatisfied demand of support services in this field RSM Italy has started a dedicated service line and developed a dedicated digital tool, through a vertical application of an existing work-flow management platform.
RSM proposal: an integrated digital platform
An integrated system, made up of a dedicated digital platform, called "ControlloAnalogo" ("Analogous Control"), possibily integrated with other vertical platforms, with specialised consulting service in finance and audit, besides process definition and controll, business, quality and legal and corporate law control.
Thanks to RSM "ControlloAnalogo" platform, the three control phases can be implemented with a safe, quick and shared approach:
Ex-ante Control, including:
forecast of objectives to be obtained through inhouse providing, with qualitative and quantitative target indicators;
approval/drafting/modification of the Service Contract between the Public Entity and the Inhouse Providing Company and definition of Specific Regulations for Corporate Governance;
ex ante approval, by the Public Administration, of programming documents, as well as extraordinary administration corporate rulings, fundamental management activities like programmatic statement (relazione programmatica), investment plan, development plan, industrial plan, economic-financial plan, employment plan, purchases, alienation of assets, and committment of expenditure exceeding a specific limit;
the rules governing the power to appoint and revoke corporate bodies.
Contextual Control, including:
request of periodic reports on management;
verification of implementation state of objectives, focusing on corrective actions in case of financial variance or negative results;
any possible provision of binding suggestions on economic and financial management of the inhouse company;
possible inspections;
periodic compliance verification with sectors specific norms (i.e. Public Transportation, Waste Management, Water Treatment etc.) as well as for Administrative Transparency, anti-bribery, Privacy, compliance with inhouse Control System, Risk Assessment etc.
reporting to administraton by control and vigilance bodies (board of auditors, auditors, supervisory board, ex Legge 231/90), following their coordination, of any possible anomalies during management;
the power to change the standard scheme of any possible service contract with clients.
Ex post control, including:
verification of financial statements during approval phase, providing indications of objectives for further programming;
benchmarking analysis;
customer satisfaction surveys and employees satisfaction surveys of the inhouse company.