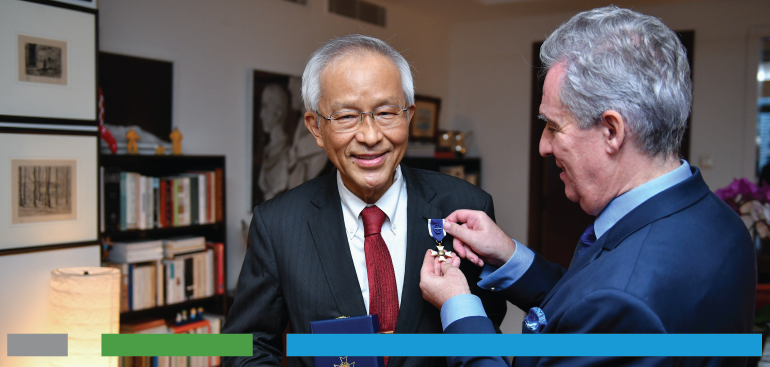 Brazillian ambassador Ary Norton de Murat Quintella presenting Dato' Robert Teo Keng Tuan the Order of Rio Branco at the former's residence in Stonor Park Condominium, Jalan Stonor, Kuala Lumpur. 
---
KUALA LUMPUR: A prominent chartered accountant was bestowed one of Brazil's top meritorious awards.
Dato' Robert Teo Keng Tuan, who will turn 72 on May 4, was awarded the Order of Rio Branco, in recognition of his contributions to society.
Brazillian ambassador to Malaysia Ary Norton de Murat Quintella presented the award at his residence in Stonor Park Condominium, Jalan Stonor.
Present were Foreign Ministry undersecretary (Americas) Wan Yusri Wan Abdul Rashid, Quintella's visiting mother Thereza, a retired career ambassador of 45 years, and Teo's wife Datin Anita Leong.
Teo is the third Malaysian to receive the award introduced in 1963. In his citation, Quintella said Teo was a dear friend whose résumé was known to all.
"Teo serves prominently on various boards and associations, but is best known as the 'Boys Night Out' (BNO) secretary-general (an informal group of foreign ambassadors and some Malaysians).
"BNO is a very important group for us foreign ambassadors because it is a way for us to get to know Malaysia and Malaysians a little bit better.
"During the worst periods of the Covid-19 pandemic, when physical meetings were not allowed – which pretty much comprised almost half of my tenure so far in Malaysia – BNO became even more important.
"That is because it provided a way of keeping in touch with friends and exchange views about everything that was going on in Malaysia, from both foreign and local perspectives.
"BNO would not exist without Teo and certainly would not have survived these Covid-19 times without him," he said.
Apart from being chairman and managing partner of his own firm RSM Malaysia PLT, Teo is also formerly an independent non-executive director of Malaysia Smelting Corporation Bhd and former non-executive director of Symphony Life Bhd.
He is also a Malaysian Nature Society Board of Trustees member, the Argentier of Confrerie de La Chaines des Rotisseurs, a past president of the Malaysian-German Chamber of Commerce and Industry, past vice-chairman of the Malaysia Australia Business Council, executive member of Italy-Malaysia Business Association and founder member of the Malaysia-Spanish Chamber of Commerce and Industry.
Quintella said the award on Teo was to pay homage to the former Brazilian Foreign Affairs minister, José Maria da Silva Paranhos Jr, who was the Baron of Rio Branco.
"He was our longest-serving Foreign Minister. Paranhos's most important legacy to Brazil was his successful effort in defining the country's borders with all of our neighbours.
"Brazil is one of the countries in the world with the highest number of land neighbours – 10 in all. It is on great part, thanks to the Baron of Rio Branco that we have no territorial conflicts," he said.
Quintella said Paranhos never abandoned his belief in diplomacy as the means to handle international matters, thus helping establish Brazil's reputation as a peace-loving nation and a competent actor on the international arena.
"This is why the Order of Rio Branco medal, which I today bestow upon our Teo, is considered the most important honorific order that a foreigner can receive from the Brazilian government," said Quintella.
Meanwhile, Teo said, BNO, often referred to as the Ambassadors' Roundtable, had begun eight years ago.
"We began with five ambassadors and five leading members of the local community.
"That evening was the most memorable as excellent camaraderie and serious discourse took place in between a nice dinner of cantonese cuisines and wine at the Elegant Inn Restaurant in the Hap Seng Building in downtown Kuala Lumpur. Due to popular request, I arranged monthly dinners, thereon.
"For most dinners, guest speakers – from politicians, prominent corporate figures and serving ambassadors – were invited to talk on the latest issues."
Teo, who hails from Kuala Lumpur, completed his studies at the King George V Secondary School in Seremban, before furthering his chartered accountancy in London during 1969-1973.
---
This article was extracted from  New Straits Times, published on 23 February 2022