Ακολουθεί Ελληνική Μετάφραση
We are pleased to announce the promotion of Kypros Kyriakou to Senior Audit Manager, effective from January 01, 2022.
"Kypros is an accomplished professional with outstanding performance and contribution. He achieved this significant career advancement through his continuous commitment, dedication, and hard work in providing to clients services that assist them in navigating successfully through their challenges", says George Themistocleous, Managing Partner and CEO of RSM in Cyprus.
Moreover, he adds that "Our greatest reward is the success of our people. We are very proud when we witness our people's development and achievements. These achievements represent not only their individuals' efforts but also our commitment to investing time and resources that focus on their professional empowerment and personal growth. We are certain that these new leaders will positively impact the market's future, further drive our corporate strategies, and deliver to our clients' tailored, innovative ideas and insights that will assist them in achieving the best possible results. We congratulate Kypro for his promotion, and we wish him the best of success in his professional and personal life." 
In his new position, Kypros will lead teams that focus on providing audit and consulting services in a selective clientele that includes, amongst others, privately owned managed businesses with local and overseas operations.   
Kypros is a senior audit manager based in the Limassol office. He has experience in various industries and a high level of knowledge in International Financial Reporting Standards (IFRS) and International Standards on Auditing (ISA). He has been a member of the Institute of Chartered Accountants in England and Wales (ICAEW) since 2016 and of the Institute of Certified Public Accountants of Cyprus (ICPAC).
To remain up to date with the latest news of the local and international business environment and learn helpful information about a topic that interests you on audit, tax, and consulting, subscribe to RSM Cyprus Business Insights & News. Also, please feel free to follow us on Facebook and Twitter and connect with us on LinkedIn.
---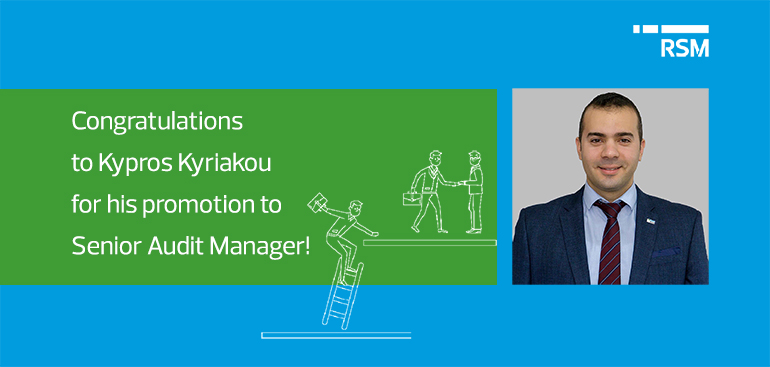 Προαγωγή του Κύπρου Κυριακού σε Senior Audit Manager
Με μεγάλη χαρά ανακοινώνουμε την προαγωγή του Κύπρου Κυριακού σε Senior Audit Manager, με ισχύ από την 01 Ιανουαρίου 2022.
«Ο Κύπρος είναι ένας επαγγελματίας με εξαιρετικές επιδόσεις ο οποίος ειδικεύεται στην παροχή ελεγκτικών και συμβουλευτικών υπηρεσιών που στοχεύουν στην θωράκιση των δραστηριοτήτων της εταιρείας και την επίτευξη των επιχειρηματικών τους στόχων.  Η σταθερή και στοχευμένη πορεία του όλα αυτά τα χρόνια, καθώς και η συνεχής του εκπαίδευση στα νέα δεδομένα της αγοράς και γενικότερα του επιχειρείν είναι σίγουρα κάποιοι από τους παράγοντες που έχουν συνεισφέρει στην επιτυχή εξέλιξη της σταδιοδρομίας του» αναφέρει ο Γιώργος Θεμιστοκλέους, Managing Partner και Διευθύνων Σύμβουλος της RSM στην Κύπρο.
Επιπλέον, προσθέτει ότι «Η μεγαλύτερη ανταμοιβή μας είναι η επιτυχία των ανθρώπων μας. Είμαστε πολύ περήφανοι όταν βλέπουμε τους ανθρώπους μας να εξελίσσονται και να επιτυγχάνουν τόσο τους προσωπικούς αλλά και επαγγελματικούς τους στόχους. Αυτά τα επιτεύγματα αντιπροσωπεύουν όχι μόνο την προσωπική τους προσπάθεια αλλά και τη δική μας υπόσχεση, να τους παρέχουμε όλα τα κατάλληλα εργαλεία και εκπαίδευση που έχουν ως στόχο να προάγουν την εξέλιξή τους. Επιπροσθέτως θεωρώ ότι η εξέλιξη των ανθρώπων μας συνεισφέρει θετικά στο μέλλον της αγοράς συνολικά, ενώ παράλληλα προωθεί τις εταιρικές μας στρατηγικές και προσφέρει στους πελάτες μας υψηλής ποιότητας υπηρεσίες που τους βοηθάνε να πετύχουν τους στόχους τους. Συγχαίρουμε τον Κύπρο για την προαγωγή του και του ευχόμαστε ότι καλύτερο τόσο σε επαγγελματικό αλλά και προσωπικό επίπεδο!»
Ο Κύπρος, στη νέα του θέση, ως Senior Audit Manager θα ηγείται ομάδες που επικεντρώνονται στην παροχή ελεγκτικών και συμβουλευτικών υπηρεσιών σε πελατολόγιο που περιλαμβάνει, μεταξύ άλλων, ιδιόκτητες επιχειρήσεων με τοπικές και διεθνή δραστηριότητες.
Ο Κύπρος είναι Senior Audit Manager με έδρα το γραφείο της Λεμεσού. Διαθέτει πολυετή εμπειρία σε διάφορους τομείς της αγοράς και υψηλό επίπεδο γνώσης στα Διεθνή Πρότυπα Χρηματοοικονομικής Αναφοράς (ΔΠΧΠ) και στα Διεθνή Πρότυπα Ελέγχου (ISA). Είναι μέλος του Institute of Chartered Accountants in England and Wales (ICAEW) από το 2016 και μέλος του Συνδέσμου Εγκεκριμένων Λογιστών Κύπρου (ΣΕΛΚ).
Μπορείτε να μας ακολουθήσετε στο Facebook και στο Twitter, αλλά και να συνδεθείτε μαζί μας στο LinkedIn.