Organizations today need to stay ahead of the curve in order to be competitive. They therefore work to make feasible their corporate strategy through well-structured and executed portfolios, programs and projects.
Projects need to satisfy their organizations that they will deliver in accordance with the set scope, timeline, budget, quality and value generation. This implies, among other alternatives:
Innovation
Diversification
Improvement
Updating
Broadening
Maintaining compliance with current regulations
RSM Colombia's project management services
At RSM Colombia, we deliver a series of services designed to ensure project execution success, from the design of their structure to the close and project sustainability. We understand that many projects fail to achieve their business goals, and that a substantial amount of risk is often involved. But with the right corporate strategy consultants on board, you can safely navigate the many pitfalls of project management.
We firmly believe in putting our clients first, and our whole approach is tailored around that philosophy. We appreciate that not all organizations have the resources at their disposal in order to effectively oversee large or complex ventures, and that is where problems can arise, but our project management specialists can help you arrive at a satisfactory solution.
Our approach to providing project management solutions
We understand that the challenges facing each business are different, which is why proposing project management solutions on a one-size-fits-all basis is not a viable option. Instead, we promise to listen carefully to your pain points, taking the time to understand your organization and the changes you are hoping to make.
Armed with that information, our corporate strategy consultants will formulate a plan to forge a way forward. A fundamental component of our project management services is offering full transparency throughout. We will maintain open channels of communication at all times and our team of project management specialists will be on hand to answer any questions you may have.
Contact us to discuss your project management
If you would like to know more about how our project management solutions can benefit your organization, please feel free to get in touch with one of our offices in Bogota, Bucaramanga, Cali or Medellin. Alternatively, you can head to our online contact form, send us a message and we'll get back to you. As part of RSM's global network of 800 offices across 120 countries around the world, we are perfectly positioned to deliver the range of project management services to suit your business.
Our project management services
We deliver training in project management according to best practices and standards. Training sessions can be arranged customized to your needs, either individualized or open to the public.
Sometimes, due to the characteristics of an organization and/or its policies, it is necessary to appoint an external advisor to supervise the delivery of commitments made by the project executor and the client. 
We possess methodologies, experienced professionals and tools designed to perform this supervision, and generate monitoring reports as required.
RSM offers companies the option of PMO outsourcing, by setting up a System of Project Management on its platform, and providing different connection alternatives to clients interested in this modality.
In today's environment, many organizations do not have trained resources for undertaking a large and complex project. Frequently, companies contact RSM searching for an ally to direct their projects, since they require additional help for coordinating the different aspects that a project entails, such as its scope, timing, costs, quality standards, resources, communications, acquisitions and stakeholders.
Many projects fail prior to their start up, because Organizations initiate them without having even established and prioritized all the components of the project, taking as reference its purpose, scope, resources, and management mechanisms to be utilized for guaranteeing the achievement or the objectives proposed.
Preliminary steps to lay down the foundations for a successful project should follow some concrete and basic phases: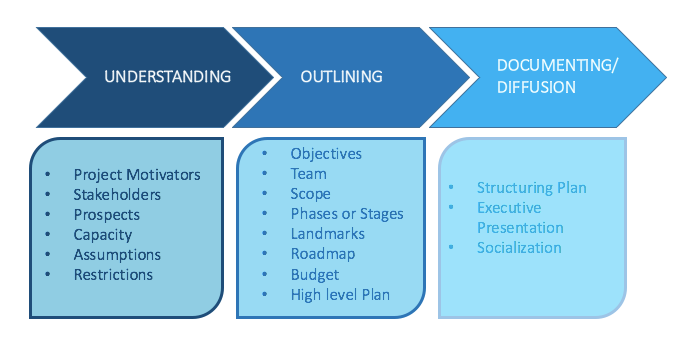 Sometimes organizations have to decide whether to continue or cancel a project. 
This circumstance generally arises when a long execution time has lapsed without having tangible achievements, generating extra costs, uncertainties, and a breakdown in the morale of the work team. 
In order for organizations to adopt a properly supported decision, RSM provides diagnostic services of the project, carrying out an integral diagnosis of the status, and submitting recommendations about the findings, as well as of the decision the company should take on the project's continuity.
We have the tools necessary for evaluating the maturity of project management within organizations, based on fundamental aspects such as: Policies, procedures, standards, resources, training programs, and certifications, among others. 
Upon concluding the evaluation, a recommended action plan is generated.
In cases where projects have practically come to a halt, but which the organization needs to conclude, RSM provides expert specialized advice to carry out an objective analysis of the situation, and propose the necessary steps to re-launch the project, incorporating all necessary aspects for achieving successful completion.
Implementation of a new project, changes in work systems, mergers and acquisitions, and related strategic decisions, have significant impacts over internal and external clients of the Organization, which shall be approached adequately. RSM has a Organizational Change Management Methodology, which emphasizes Communication Management, Impact Management and Training Management.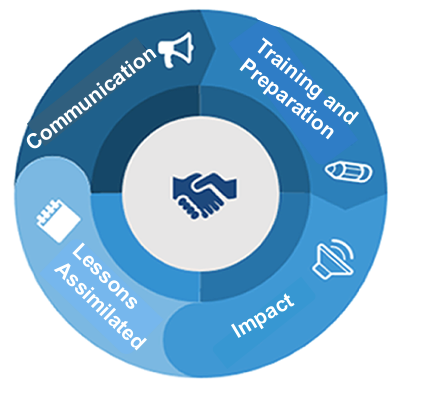 The adequate approach to these aspects seeks to minimize rejection of new working modalities, and to maximize time and money aiming at generating value.
RSM can automate project management with the support of well-known information technology tools, such as SharePoint. Project Management process automation allow companies to achieve an outstanding success percentage of their strategic initiatives.
When companies decide not to implement a Project Management Office, but still require the adoption of a rigorous formal project management process, RSM assists in defining and implementing a corporate project management model comprising processes, procedures, formats and indicators. These help to formalize management inside the company, and homogenize the stages to be followed in each project.
At cutting-edge organizations it is common that the need to implement new projects arises, and in many occasions in house managers are assigned to conduct them, without having received formal training, or without specific experience in Project Management. RSM provides personalized, coaching-type accompaniment for knowledge transfer and tools for the new project managers, and personalized sessions focused on acquiring the skills and knowledge required for achieving success.
Contact us
Complete this form and an RSM representative will be in touch.