RSM alongside Perfektüp in the strategic union with Tubettificio Favia.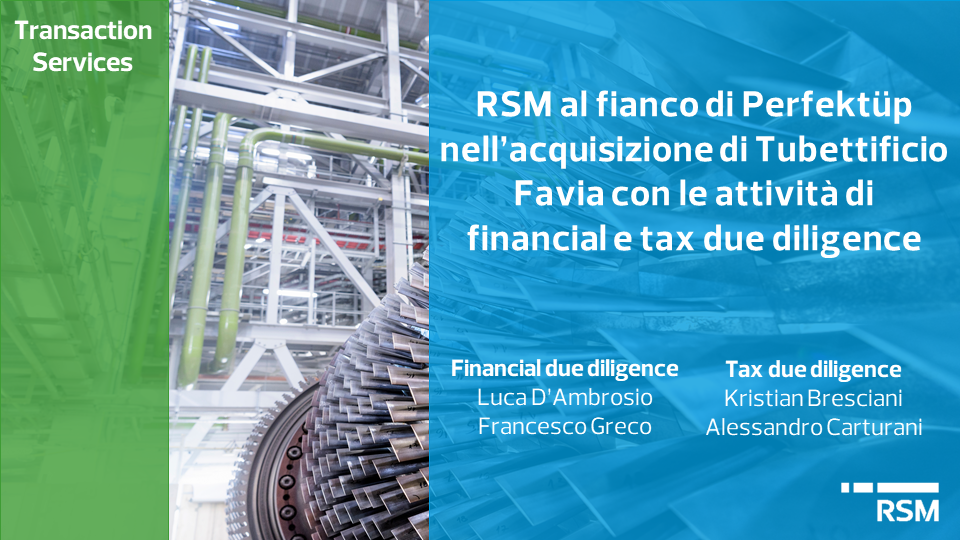 RSM assisted Perfektüp in the acquisition of 100% of the shares of Tubettificio Favia. Perfektüp, a Turkish company, one of the most important in the packaging sector in the EMEA area, has over 65 years of presence on the European market, which has seen it protagonist of constant growth, from a local company to a leader in the production of aluminum tubes, laminates and spray cans. It is present in Turkey with three operating plants, in addition to one under construction; furthermore, 10 years ago, the company also opened an additional plant in Bulgaria. Perfektüp has a total of 460 employees and a turnover of almost 50 million euros. Perfektüp is part of the Bell Holding group owned by the Manzini family, of Italian origins, has a global turnover of over € 100 million, 1,000 employees and 11 production units in Turkey and Europe.
Tubettificio Favia, active since 1934, supplies aluminum packaging to the major pharmaceutical industries, thanks to its long experience and innovative solutions developed through R&D.
RSM assisted Perfektüp for financial and accounting due diligence activities with a team made up of Luca D'Ambrosio and Francesco Greco, for tax due diligence activities with a team made up of Kristian Bresciani and Alessandro Carturani. Legal assistance to Perfektüp was provided by the Pirola Pennuto Zei & Associati firm.