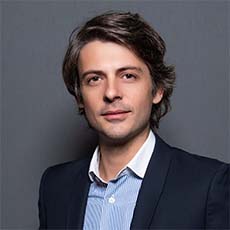 What did you do before coming to RSM Switzerland?
I worked for under a year in a law firm in France in the field of labor law. I then moved to Geneva to work for almost 10 years in a Big 4 in the global mobility department. I started as a consultant and ended up as a senior manager.
I joined RSM Switzerland in October 2019 to set up the GES (Global Employer Services) practice and team, based in our Geneva office. Today, I hold the position of Director in which I thrive. The expectations at RSM Switzerland are in my opinion perennial and relevant.
Why did you choose to work at RSM Switzerland?
Large organizations are complex, often have too many processes and sometimes contradictory approaches between the global and local levels. I wanted to bring my energy and enthusiasm to a truly agile and efficient organization.  At a certain point, I felt I was no longer doing the job clients were expecting, but only financial management and fixing avoidable issues. I used to spend my days controlling and offshoring workflow management, which was far away from my professional expectations as it took the advisor away from its clients and the local marketplace. 
"When I joined RSM Switzerland, I found a structure that was more focused on people, on the client, and on the core business." 
What has been your favorite experience at RSM Switzerland?
I've experienced so many great times since I joined in the end of 2019. We had the opportunity to win a key account in summer 2021 with a large group specialized in the luxury industry. On a personal and professional level, it was an incredible moment. It was the consecration of two years of collective efforts at RSM Switzerland to build a relevant and different client-focused HR & Mobile Workers' service offering and practice. It was a huge challenge as a few months after we got started, we faced the COVID period, triggering borders to close regularly and the rise of a new way of work.  As we have a very adaptable and agile approach, we have been able to demonstrate that RSM Switzerland was the right choice. Working with this group has strengthened RSM Switzerland's position in the market and was the starting point of subsequent new successes.
How would you describe the daily work of your department?
There is not really a typical day as our agenda is refreshed all the time.  It is necessary to know how to adapt to the requests of the clients. However, generally, as a routine in the consulting business, our Monday mornings always starts with the control of operations and time allocation of the team.  
I also review the current work in progress with my middle management as well as weekly catch up with my entire team to check the projects in progress. The purpose of this is to balance the work and redistribute the tasks if necessary so that we can deliver swiftly to all clients by keeping people charged with a balanced and diversified workload. 

What would you tell someone who might be considering a career at RSM Switzerland?
I would say RSM offers an opportunity to release your full potential and strongly develop your strengths. I have much more autonomy compared to my past job, as well as very strong support from our upper management. The tasks are more diversified and less segmented than in other organizations and allow more proximity to my clients. This is our ultimate priority as our increased client engagement illustrates that our approach is the right one. I really believe that this "RSM way", being empathic and focusing on what really matters are the keys to our success. 
How do you manage your work-life balance?
In my view, our upper management puts people at the heart of all that we do and is very flexible. In counterpart, I am flexible with them. It is a two-way relationship based on trust. This enables me to do my very best to be close to my team and clients and strive to go beyond their expectations. The combination of remote and office work and the freedom to organise myself as I see fit, which is more possible at my senior level, give me the opportunity to get the right balance with regard to my personal needs. 
Who are you outside of RSM Switzerland?
I am first and foremost a father. I love nature and as soon as I can I try to go to the mountains. I do a lot of trail running, climbing, and road biking.
Meet our People related interviews