With the recent passage of "phase one" of a trade agreement between the United States and China and the ratification of the United States-Mexico-Canada Agreement (USMCA), 2020 was supposed to be a transitional year for the global auto industry. Analysts had expectations that sales in the sector had bottomed out and that growth in China would support the world market, reversing recent negative sales trends and getting back to a trajectory of growth. However, the worldwide spread of the coronavirus disease has become one of the greatest tests to the complex global supply chains created by auto manufacturers over the past 30 years and could lead to another downturn in global sales.
Coronavirus ground zero
When a dangerous new virus was spreading in the Chinese city of Wuhan and the Hubei province, the auto industry found itself at the center of the outbreak. The Hubei province is home to many major car manufacturers and in 2018 produced 1.7 million cars, accounting for almost 9% of China's automobile output that year, according to Bloomberg Intelligence.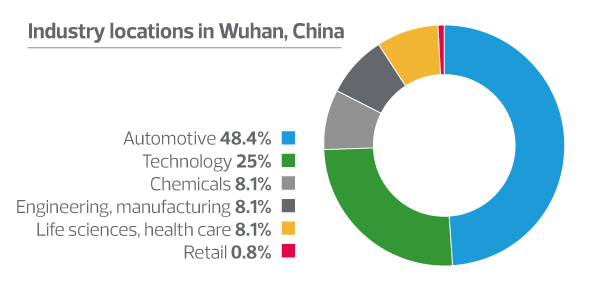 An assortment of automakers operating in or near the city had no choice but to halt production at the start of 2020 due to the spread of the virus. Soon after, manufacturers in other parts of the country, including China's automotive center of Shanghai, felt the impact. While some plants in Wuhan remained shuttered through early March (more than two months after operations were expected to resume following the Lunar New Year holiday), many have reopened. That includes the new Tesla factory in Shanghai, and Ford restarted production at its facilities in Chongqing and Hangzhou on Feb. 10.
Many workers trying to get back to jobs in China face a slew of fresh quarantine policies designed to prevent the spread of the new coronavirus, and factories are running slowly and could face new restrictions if the pandemic worsens. China postponed its annual auto show in Beijing, originally scheduled for April 21, and many other events have also been cancelled or delayed.
While the ultimate impact of the coronavirus pandemic on China's auto production and sales is not clear, passenger car sales there fell 92% in the first half of February, according to data from the China Passenger Car Association. China's association of automobile manufacturers recently forecast a 10% decrease in sales for the first half of the year and 5% decline for the full year. As of mid-March, IHS Markit estimated that there would be a reduction of 1.7 million vehicles produced in China. Several manufacturers – including General Motors and Volkswagen – have become dependent upon sales and revenue from what has become the world's largest new vehicle market, and this slowdown may hit their suppliers hardest. Ultimately, automakers around the world that depend on parts and accessories from China will feel the pain as well.
The coronavirus could drive down global auto sales by as much as 2.5 percent this year, a significantly sharper decline than the 0.9 percent dip previously forecast by Moody's.
All connected
The auto industry is feeling the effects of the coronavirus outbreak well beyond China's borders as shortages of supplies from China stall production around the world. While China is not a significant exporter of fully assembled vehicles, it has become a major player in the worldwide auto parts and component network. In 2018, China exported almost $35 billion worth of parts and accessories, with the United States importing almost $12 billion.
Nissan recently announced it would suspend auto production in Japan due to the outbreak. Hyundai, which is highly dependent on Chinese suppliers, halted three of its plants in South Korea in February due to parts shortages. In mid-March, every major carmaker in the U.K. and Europe suspended or cut production as the disruption from the pandemic continued to spread – with only lower-volume manufacturers such as Aston Martin keeping factories open. In addition, while the United Auto Workers and big three automakers had initially agreed not to close their factories outright, as of March 18 they decided to suspend production to keep their workers safe from the coronavirus.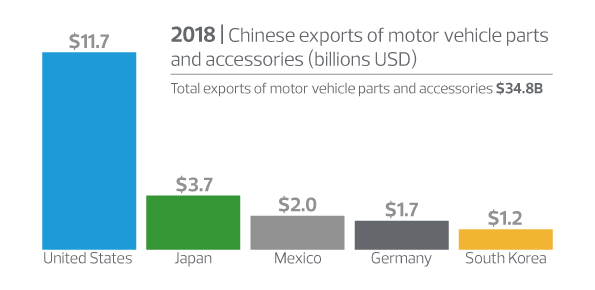 "Due to the coronavirus, the major automakers were experiencing declines in January and February, compared with the same period in the previous year," said Jinyong Fu, RSM China partner and automotive leader.   "However, many of the manufacturers have resumed their production (although not at full capacity) after the Chinese Spring Festival when the epidemic had been controlled effectively."  

As automakers work to reopen factories, and parts plants resume operations, many suppliers have no choice but to turn to costly airfreight, rather than ships, to get parts to their customers quickly. Supply chain issues may force businesses to send workers home or reduce production in the near term.
As the coronavirus takes its toll on Italy, the world's eighth biggest economy, Lamborghini announced the closing of its factory in Sant'Agata Bolognese. Because this facility is responsible for the production of all the brand's models, this effectively means no new Lamborghinis in production. In addition, Fiat Chrysler has temporarily closed four plants in Italy. 
Automotive companies around the world are increasing space between employees at their workstations, according to RSM Italy's automotive team  . This will affect and require changes to the manufacturing process, and when production resumes may to lead to lower daily production rates. These changes, plus enabling employees to work from home, will bring major challenges for companies to meet production demands globally.   
The automotive supply chain in Europe is highly integrated, with supply chains that cross multiple countries. Germany is the global headquarters to Volkswagen, BMW and Daimler. Renault and Peugeot, which is merging with Fiat Chrysler, are based in France. As France and Germany continue to evaluate the pandemic and provide directives and restrictions to contain the coronavirus, car manufacturers will continue to feel the impact and pressure in their supply chains.
How coronavirus may transform the auto sector
There may be a surge in growth in the automotive market as manufacturers resume operations, but it will take time to get back to normal production levels. There is still the threat of U.S. tariffs on automobiles and auto part imports, expiring credits for electric vehicles in China, as well as new European Union emissions rules kicking in this year and in 2021. Tariffs – which have increased costs – as well as the increased research and development costs (such as electric vehicle and autonomous vehicle technology) to comply with new regulations and increasing consumer demands could do serious damage to the bottom lines of the weakest global players.
The coronavirus outbreak will surely accelerate industry consolidation and transformation, with organisations focusing on greater resilience, innovation and investment in emerging growth markets. Significant disruption inevitably causes companies to respond with a campaign to diversify their suppliers, leading to higher costs in the short term. Those higher costs typically ease as the memory of the disruption fades, but this time may be different; manufacturers were already shifting global supply chains away from China in response to tariffs, and this pandemic could be just the event that leads to more regionally focused supply chains. Such a reversal would mark a departure from the three-decade-plus trend of moving manufacturing to China.
Responding to change
In the short-term, our RSM automotive leaders recommend the following:
Supply chain stabilisation: The process of moving products from supply through production and eventually distribution presents complex decisions. We recommend modelling supply chain alternatives with smart algorithms and other tools to determine the best options that would provide short-term stability and a platform for long-term success. The coronavirus has highlighted a number of risks and exposures throughout the entire supply chain. Companies are looking to stabilise their supply chains in an effort to prepare for a restart and economic recovery, whenever that occurs.  
Maximise liquidity: The automotive industry is very capital intensive, requiring significant annual investments in research and development. While companies typically focus on profitability metrics, we recommend that right now companies shift their focus to enhancing liquidity opportunities. Cash conversion cycles and inefficient uses of internal cash-working capital maximisation (payables, receivables and inventory) should be a secondary focus area. In general, it takes more than the CEO or CFO to identify and take advantage of liquidity opportunities. Organisational behavior will need collaborative awareness and a coordinated plan for execution and the identification of key performance metrics for measuring liquidity maximisation. Finally, companies need to evaluate existing lines of credit for market terms and assess alternative liquidity sources that may be available to source and fund working capital needs. 
Stay focused on your customers: We recommend companies focus on customer supply chain needs during these volatile times. Customer centricity is the quality of an organisation that places the customer at its core. This standard moving forward will obviously have huge impacts on supply chain design, in order to meet increasingly complex customer requirements.  
Bringing stability to your supply chain, maximising liquidity and focusing on the customer is critical in the short-term to maximise your organisation's overall financial results. However, the industry's recovery after the pandemic will require an even deeper commitment to innovation and a drive to invest in emerging growth markets in order to maintain today's fast-moving environment.