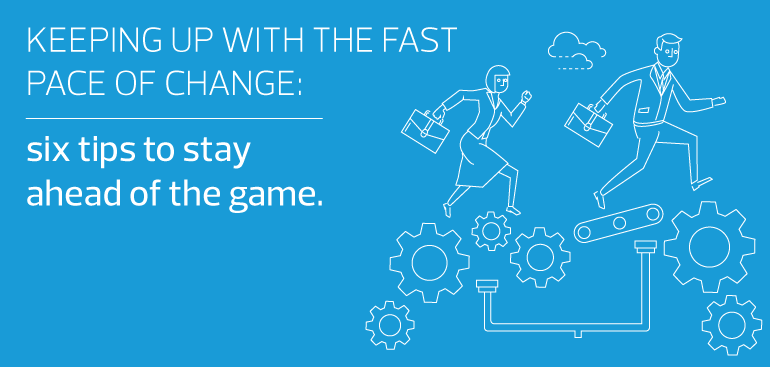 Keeping up with the fast pace of change: six tips to stay ahead of the game. By Ian Sanders   
Chances are you're reading this on a tablet or mobile device rather than seated at your desk. So, look around the train carriage, airport lounge or coffee shop now. How many people are 'at work'? Chances are, quite a few.     
For our parents' generation, 'work' was a place people went to. The office equated to work; home meant being off-duty. Today the boundaries are obscured: work is a mindset, no longer a place we go.   
This new world of work presents opportunities and challenges for both employers and employees.   
I left my job as managing director of a small business 18 years ago. Since then, I've carved out an agile and independent work life as a creative consultant. During this time, I've witnessed and experienced significant shifts in the way we work. Technology has changed our relationship with our jobs. Working practices and office spaces have been transformed. The importance of organisational culture has made its way up the priorities list.    
"Embracing a new approach to work can help middle-market business leaders make their organisations more future-proof." 
The working practices I first experimented with - eschewing a fixed office space for a combination of coffee shops and co-working spaces; being agile; following my curiosity rather than abiding by a long-term plan - are now more common in organisational life.    
So, how are we to make the most of these opportunities? Embracing a new approach to work can help middle-market business leaders make their organisations more future-proof. It's a chance to create workplaces where employees feel fired-up to do their best work. And injecting new ideas and working practices will ensure their businesses are forward-thinking, giving them an edge over their competitors.    
RSM International's Chief Executive Officer, ​Jean Stephens, recently wrote​ that one challenge for middle-market business is the ongoing struggle to find and retain the most skilled and innovative employees. Ms Stephens noted the key to attracting and keeping talent is to create people-friendly organisations where the best employees will want to work.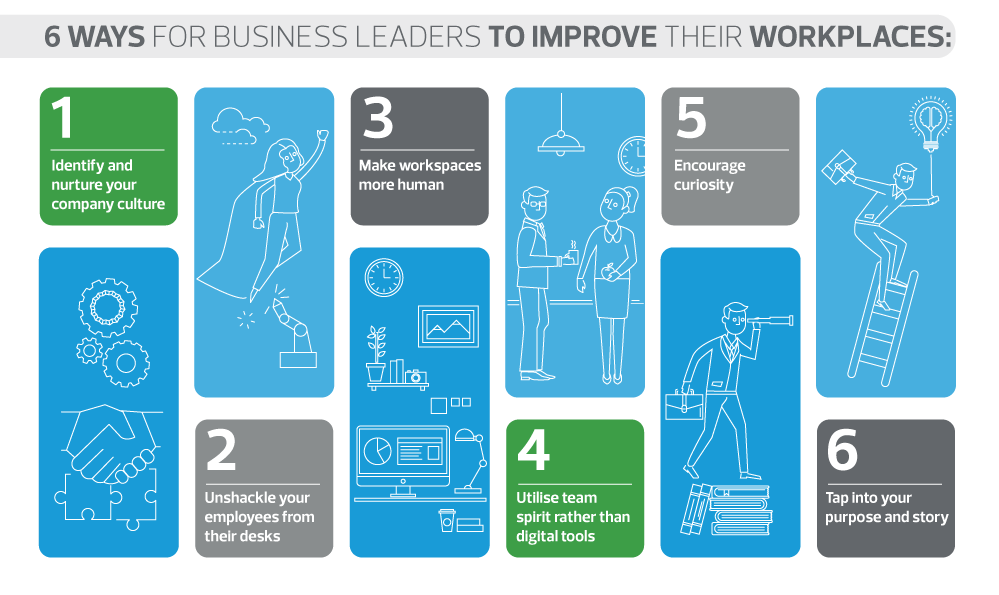 That's the holy grail for most business leaders, but how can that be achieved? Outlined below are six ways for middle-market businesses to not simply survive, but thrive in this new world of work:   
Know your secret sauce: identify and nurture your company culture. ​How do you create workspaces where people are energised? First, protect the culture. Daniel Coyle, author of​ ​Culture Code​, writes that "if you get the behaviour right, you can create the magic." The concept of organisational culture can feel jelly-like, hard to grasp hold of. But as Coyle outlines, culture is in fact grounded in a very real set of behaviours and best practices. Capture your culture by first uncovering what it is that makes working at your organisation unique and special. Write it down and publish it. And then use it as a touchstone for everyone in the organisation to use, so it's clear what's expected of each and every employee. After all, workplace principles are just too important to be stumbled upon over time. UsTwo, a digital product studio, is a great example of a start-up which has succeeded in scaling its culture. With 250 people now based across four locations - London, New York, Malmö and Sydney - it understands the value of protecting its culture. Its own manifesto​ emphasises that 'culture is not something you have, it's something you do.' 
 
Unshackle your employees from their desks. ​Most executives don't have their best ideas at their desk, yet why do so many workplace cultures not encourage employees to move around inside - and outside - the office during the working day? Physical movement combined with the stimulation of different environments leads to increased productivity and creativity. Fluid movement in the body triggers fluid movement in the brain. Allow employees to tune in to where they do their best work, such as the cafe for an informal catch-up. Or walk past the boardroom and keep going - getting outside for a walking meeting can help achieve so much more.  
 
Make workspaces more human. ​Fortunately, most employers have woken up to the importance of the right environment; soulless offices furnished with grey floors and beige walls are hopefully a thing of the past. But you can't just shoehorn in a ping pong table and espresso machine and expect everyone​ ​to become energised overnight. Take inspiration from those doing it well, such as ​Second Home​, a co-working space designed by Spanish architects, José Selgas and Lucía Cano. This co-working space has plenty of natural light, every internal partition wall is transparent and there are plants and trees everywhere. Areas are zoned for different tasks. Even on cloudy days the energy just buzzes. These types of spaces are the offices of the future.   
 
Nurture team spirit instead of simply relying on digital tools. ​Apps like Slack have revolutionised internal communication, however nothing beats gathering everyone in one place. ​After all, there's a limit to how well digital channels can engage. ​Spending hours in meetings is not the answer, but a more human approach is.  For example, eating meals together ​can help build team spirit. Can't wait for lunch? The Swedish tradition of Fika ​has team members getting together for coffee and pastries where chat tends to veer away from work. Of course, ​munching pastries or pasta is difficult at a distance. Nevertheless, it's vital to get remote workers or teams in multiple sites together in the same room. Software company Basecamp's product is designed to facilitate project-collaboration. Yet the company still prizes face-to-face communication. Basecamp's employees are based in 30 cities worldwide. Twice a year, it flies all staff into its Chicago headquarters for a week-long meeting.  
 
Encourage curiosity: allow employees out of their bubble. ​Encourage employees to be inquisitive about the world around them. A spirit of curiosity can help us think about problems differently and come up with more creative and innovative solutions. One way to do that is to spend time walking in your employees' or customers' shoes. Another is to uncover learnings from different fields. ​Howard Schultz returned as Starbucks' CEO in 2008 at a time when the company ​had lost its way and the soul of the brand was at risk​. Schultz knew the company needed to put the customer back at the heart of everything they did. His management team immersed themselves in some of Seattle's homegrown retailers. Schultz himself got talking to a woman serving cheese at the city's food market. He was struck by her expertise and passion, especially as she'd only been working there six months. That experience prompted a company-wide retraining exercise. All 7,000 Starbucks stores were closed for three and a half hours so baristas could be trained to make the perfect espresso. 
 
Tap into your purpose and story. ​How do you encourage employees to go the extra mile? 'Discretionary energy' is the extra energy applied to the task in hand when we really care about something, such as a hobby or side project. It can also be tapped into at work. By shining a light on your organisation's purpose and story, you can create a strong emotional engagement with your workforce which will release that discretionary energy. Gerry Anderson of DTE Energy told the ​Harvard Business Review Ideacast podcast​ about a time when his employees were not performing to their potential. Anderson tried to shake things up with training. The results were disappointing. He changed his approach. He called everybody together and told them things were so dire that people might need to be laid off. He added that the company was going to do everything in its power to prevent that from happening. In return, he asked everyone to bring to work "an energy and intensity and a level of creativity you never had before." Month-by-month the company started to beat budget. It was a complete turnaround. "If you want a company to be excellent, you have to draw on people's discretionary energy, their extra energy," Anderson says. During periods of organisational change, let your employees know about the journey you're on, warts and all. Engage your employees. If they are sufficiently invested in the journey and where the organisation is headed, it could make all the difference in the company's performance.