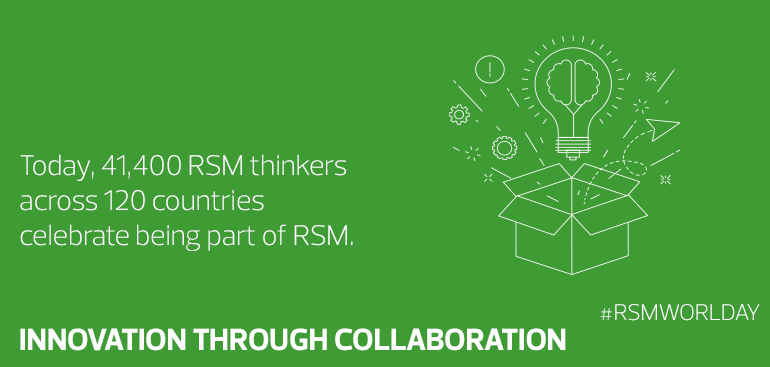 Jean Stephens, Chief Executive Officer, RSM International
Successful companies, particularly those in a growth phase, share a common characteristic: the dedication and commitment of their employees. However, as an organisation grows larger, with disparate offices spanning multiple markets, it's inevitable that a company's core values and ethos, which once stood front and centre, can become muddied. This in turn, if not handled correctly, can have a knock on impact on employee performance, retention rates and, in a service business, client satisfaction. It requires innovate thinking to stay relevant to your staff and to keep your culture and values alive. As the CEO of RSM, a network that includes 41,400 people in 120 countries, RSM World Day is one of the innovative tools we have to reconfirm our unity.
Innovation is a term often thrown around in the business world today. Now, more than ever, we hear words like digitisation, automation, disruption – the list goes on. Technology has impacted all industries and the rapid introduction of new technologies means that businesses need to, not only keep up with the times, but stay ahead. One great idea is no longer enough – businesses need to be constantly innovating and thinking of the next best thing in order to stay relevant.
Similarly, innovation has long been a focus for RSM and more so over the past year since the introduction of our Global Innovation Committee spearheaded by Bob Dohrer, RSM's Global Leader for Quality and Risk. During the last twelve months, we have learned that innovation is difficult to define in objective terms. We need to have a constant perspective on innovation. Specifically, how we can harness innovation to deliver better client service.
For RSM, innovation means different things externally and internally. Innovation for RSM externally could mean bringing new ideas to our clients directly, challenging them to innovate. It could also mean our clients have innovated and we need to anticipate and adapt the way we work with them.
Internally, innovation is different. At RSM, new ideas aren't born out of labs or R&D departments. It is up to us and the way we think. I believe the key to harnessing innovation is our people. In order to unlock innovation, we need to foster a culture within our organisation that ensures people feel comfortable bringing forward new ideas so that we can share and leverage across the global network. This is why RSM World Day 2017 is all about innovation.
Today, 19 September, RSM celebrates its sixth RSM World Day – an annual event in which our firms around the world spend the day focused on our shared vision and values. A day where we augment our close global connections, we embrace our unified brand and the values it upholds. This is done through a wide variety of activities – from charity and community events, to staff team-building and sports days, to client engagement activities. Each firm does what best suits them and their communities but all with a common purpose and focus on innovation.
Over the next week, we will start to hear the inspiring stories of how RSM firms have spent RSM World Day 2017, and how they have collaborated within their firms to promote innovation. I will share these stories with you on this blog. 

Happy RSM World Day.