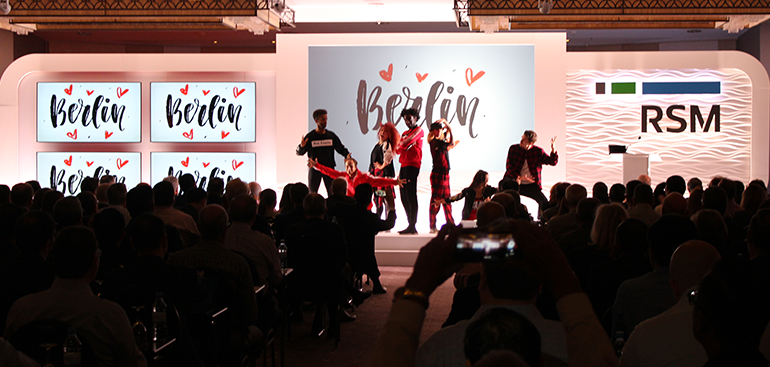 Last month we held the annual RSM World Conference in Berlin, Germany. The conference hosted over 300 leaders from across the global network, with the theme of 'No Limits'. Over three days, the conference agenda explored new initiatives and creative thinking approaches, fresh ideas for our client-led services and management practices, as well as sharing our valuable knowledge and expertise – all focused on continually embracing new and innovative ways of working in order to exceed our targets and the expectations of our clients.
High-profile guest speakers shared their valuable insights into how our working world is changing and how the shifts in global business, political and economic landscapes will affect us and our clients. We looked at how we can help clients react and find opportunity in those changes. The speakers included world-renowned behavioural economist and BBC broadcaster, Tim Harford, who focused on the art of adapting, Mat Freer, an innovation consultant, who discussed overcoming the barriers to innovation and Graeme Codrington, an expert on the future of work, who talked about disruptive forces and how they are changing how people live, work, interact and connect with each other.
As the birthplace of the digital and technological revolution and a centre for innovation itself, Berlin was a fitting setting for the conference to take place. To provide context to this, Matt Frei, Europe Editor and presenter for Channel 4 News in the UK, gave a fascinating presentation on the emergence of post-unified Germany and Berlin. As a German-born journalist, his story was both interesting and meaningful; unravelling his account of the fall of the Berlin Wall and how the city and its people united together. A lesson to us all about how much can be achieved through unwavering collaboration.
Technical workshops focused on our client-led services and covered a range of topics including Brexit, international tax, growth opportunities through M&A, risk advisory and GDPR – specifically how RSM can support clients with the introduction of the new data regulation.
With RSM leaders from over 80 countries coming together to share their ideas and insight, it is clear that our creative potential comes from the diversity of people we have in our team. RSM's ability to provide clients with new innovative ways of solving problems comes from our ability to combine expertise, skill and experiences from around the world, and there is no better example of this collaboration than at the RSM World Conference.
Photographs of the RSM World Conference 2017 can be found on our Facebook page.