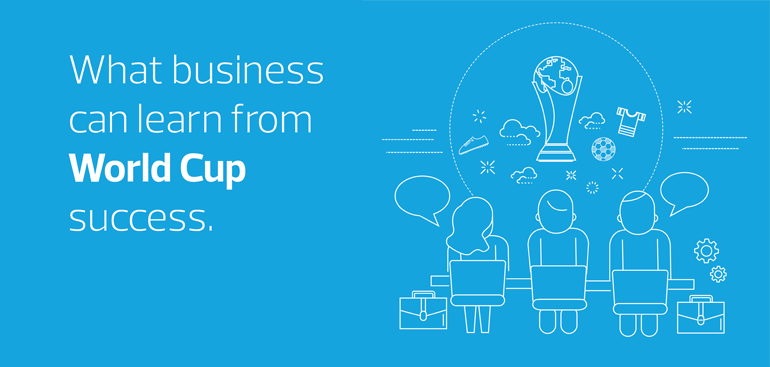 As we reflect on the World Cup that came to a close a couple of weeks ago, the tournament acted as a poignant reminder that even economic minnows can topple titans. For example, Iceland, with a population of 330,000 people punched well above its weight throughout the qualifiers and tournament through excellent training facilities, zealous coaching and unconventional tactics.
Croatia, Uruguay and, of course, Brazil all got through to the quarter final stage. The 2018 World Cup saw several upsets as Germany lost first to Mexico and then South Korea. Fans of the sport also witnessed an uncreative Spain fall to Russia.
Whilst football tactics, good management and fitness do play their part on the pitch, a successful football team is more than just the sum of its parts. A successful team has many of the characteristics that make for success in business too.
Croatia is an interesting example of this. The team has been blessed with its own 'golden generation' of players, but as any England fan can tell you – that does not guarantee success. The key ingredient for Croatia is nurturing talent and having a global mindset.
Under Romeo Jozak of the Croatian Football Federation, the country's young players are taught key skills in Croatia before they go off to play for bigger foreign clubs. In this way, Croatia has created a pool of footballing talent that plays across Europe but is then able to come together again in the national side.
This has also been happening in the economy too. Since Croatia joined the European Union in 2013, many Croats have left the country in search of better working opportunities in other EU countries. This has led to some skills shortages, but as the economy opens up, new skills and ideas could also arrive from elsewhere.
It is an interesting example of how the free flow of people can contribute to better success at home. In football it means a player with potential from a poor country can find their way into a rich football club and reap the benefits, from sports psychologists to dietitians.
It's no surprise that Brazil, the most successful national team in the history of the sport, is also fielding Neymar. A star player who made the record-breaking £200 million move to Paris St Germain last year. In fact, figures from last year showed that there were 1,202 Brazilian footballers playing outside Brazil.
However, whilst talent is important, it shouldn't be the singular focus of a business or a world cup team. This year Portugal and Argentina were knocked out in the last 16, arguably because they relied too much on their famous talent in Messi and Ronaldo.
At the last World Cup, Costa Rica, Algeria and Mexico showed what team organisation, tactical acumen and efficient systems aligned to their players' capabilities could do in place of star talent. Talent is important, but diversity of talent and processes and structure to unlock it is even better.
In business, this principle also works. As companies grow across borders they benefit from accessing better capital, talent and ideas. In Germany, we have also seen this first-hand as the business landscape is filled with globalised middle market businesses. This approach has seen Germany become the foremost exporter with a $300.9 billion trade surplus. An even more impressive achievement when the economy is made up of around 3.3 million SMEs. These aren't corporate titans, but middle market businesses with ambitious global strategies.   
So, what's the secret then? Perhaps it is a willingness to think globally like Croatia and Brazil and make the best use of the resources you start with. Middle market businesses can apply this thinking to their own businesses; a willingness to be open to global exposure and compete on the world stage goes a long way. It took Croatia to the final.