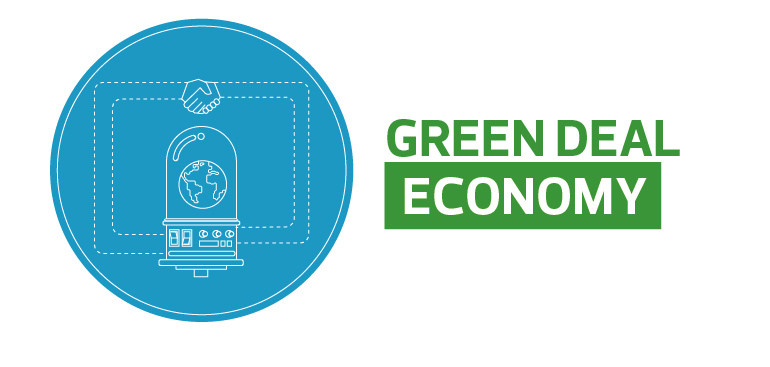 Within the scenario outlined by the PNRR, the RSM PNRR Task Force provides companies with decisive and publicly guaranteed support to make a growth leap in the name of sustainability, thanks to the financial instruments made available by the State.
European Green Deal and SACE "green" guarantees
As a national and international leader in Strategic Planning, as well as one of Cassa Depositi e Prestiti's Advisors for the Superbonus - 110% operation, RSM has also organized internally to work alongside companies at SACE S.p.A., which has been identified by the Government and is exclusively responsible for issuing guarantees for projects aimed at facilitating the green transition ("green" SACE guarantees), in accordance with the objectives of the European Green Deal (see European Taxonomy of Sustainable Activities) and the CIPE Guidelines.
Commitments made benefit from a government guarantee that can be applied to projects aimed at:
Facilitate the transition to a clean and circular economy
Integrating production cycles with low-emission technologies
Accelerating the transition towards sustainable and multimodal mobility
Reduce pollution, restore ecosystems, promote climate change mitigation and adaptation and protect water resources
The SACE "green" guarantee is irrevocable, unconditional and on first demand, and can cover up to a maximum of 80% of:
Corporate financing (including project finance)
Structured financing (also in project finance)
Green corporate bond issues (eligible for European Taxonomy)
Subscriptions of green bond issues (eligible for European Taxonomy)
Bonds
RSM's support to seize the opportunities of the European Green Deal
With this in mind, RSM is able to offer strategic planning, verification of compliance with the EU taxonomy and impact assessment, all of which are indispensable elements for implementing production transformation projects in line with the requirements of the European Green Deal and which can therefore access the resources made available. RSM assists companies in a wide range of operations:
structuring the financing operation (loan, project finance, green bond)
supporting assurance activities
reporting activities
identifying the appropriate financial instrument to support each initiative
drafting of offer documents
Due Diligence and suitability analysis (EU Taxonomy Compliance)
prepares Green KPIs
initiate and manage discussions with financial institutions and SACE
In order to further consolidate the proposal, RSM collaborates with leading international law firms and with Open Impact, an innovative university spin-off that has patented a unique impact assessment platform, already successfully activated in the case of large public infrastructure projects (ports, motorways, etc.).