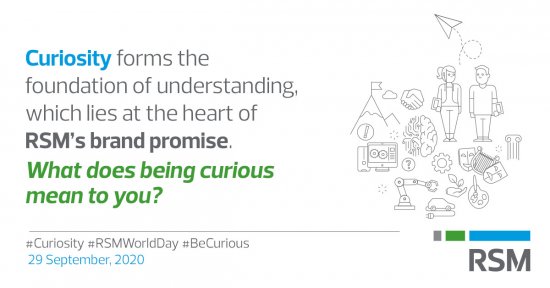 LONDON, 29 September 2020: RSM International, the global audit tax and consulting network, focused on the middle market, celebrates its 9th annual World Day event today. The day will bring together the creative energy of RSM's people, all over the world, to celebrate under this year's theme - "Be Curious".  Curiosity forms the foundation for understanding - which lies at the heart of RSM's Brand Promise, The Power of Being Understood.  
Jean Stephens, CEO of RSM International, commented:
"RSM World Day is always a special moment in the RSM calendar. It is a chance for all of us within RSM to spend time learning more about each other and to reflect on new ways to strengthen connections with clients and our communities. "For this year's RSM World Day, we have coordinated a wealth of virtual activities for our people to engage in wherever they are all over the world."
Firms in more than 120 countries are embracing the "Be Curious" theme across internal and external activities across a variety of channels. The network has launched a new global learning management system with scores of new courses - a number of which are 'curiosity' themed, enlisting the help of well known, published authors and experts to encourage different ways of thinking. There are webinars, social media activities, virtual scavenger hunts and a new World Day online hub packed with quotes, articles, videos and shared stories about how 'curiosity' has helped people to grow professionally.
Jean continued:
"I have no doubt that our next generation leaders will remember this year as a catalyst for creativity in our society and places of work. Keeping curiosity front of mind, RSM World Day will provide us with the opportunity to come together, celebrate our successes and learn from each other's experiences.
I have been immensely proud to see how our people have supported each other this year. Our people have faced many unexpected challenges head on, using them as a positive opportunity to innovate, and adapt the way we work with each other and serve clients as their trusted advisers. I look to the future with excitement as we continue to build on this culture of creativity."