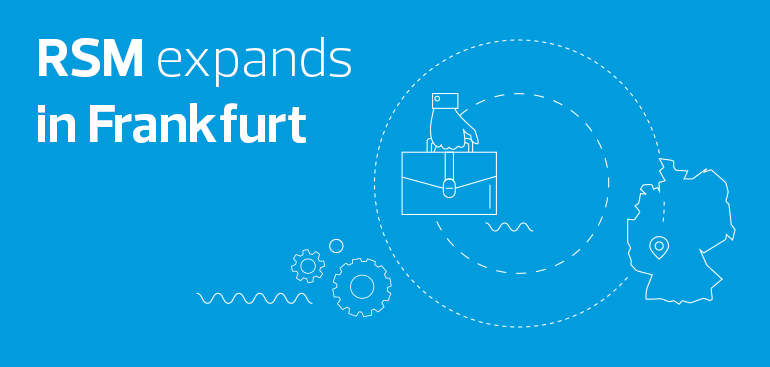 PKF Frankfurt joins RSM GmbH, creating one of the largest medium-sized audit and tax advisory firms in the Rhine Main region.
Effective as of 1 January 2019, six partners of PKF Frankfurt along with 90 employees have joined the Frankfurt office of RSM GmbH. The merger creates one of the largest RSM offices in Germany and will have enormous strategic relevance owing to its location in one of the most globally-important metropolitan areas. Through this growth, RSM GmbH now has more than 600 employees across the country, positioning itself as one of the leading medium-sized audit and tax advisory firms in Germany. 
RSM in Frankfurt audits and advises medium-sized businesses across all key industry sectors, of which many are publicly listed companies. The firm's clients do business locally, regionally, domestically as well as internationally.
"Along with corporate groups operating internationally, we especially focus on medium-sized companies that highly value individualised care and expect us to have a deep understanding of the specific needs of a medium-sized entity," explained Santosh Varughese, Managing Partner of the Frankfurt office.
He added, "Our clients operating internationally will particularly benefit from the merger with RSM by our gaining a wider range of services and competencies. RSM aspires to be the number one consultant, especially for German medium-sized companies operating globally. This is a clear promise of service, a clear statement and almost a unique positioning on the market."
Gregor Schmidt, the European Regional Leader of RSM International, commented on the expansion of this office: "With this growth we strengthen our presence enormously in one of the most dynamic economic regions of Europe. By expanding the Frankfurt office, our ranking among the largest audit and tax advisory firms in Germany will climb towards the top ten."
Jean Stephens, Chief Executive Officer of RSM International, commented: "For our global clients, Frankfurt is a strategically important location; a metropolitan area with enormous economic power as well as being an international hub for the exchange of goods and services. I am delighted to welcome the partners and staff in Frankfurt to our network, further enhancing our client services and bringing expert insight and knowledge to middle market businesses looking to take advantage of this key financial centre."
Santosh Varughese highly values a close personal relationship with his clients: "As a partner-led firm, we offer services oriented to finding solutions, individual consulting from one hand and direct lines of decision-making. Complex issues are handled by an inter-disciplinary team responsibly led by our partners."
"Owing to ever increasing globalisation, to business models becoming digitalised and to IT security gaining ever more importance, our medium-sized clients are faced with growing challenges," emphasised Rainer Grote, member of the management committee of RSM GmbH. "We are particularly skilled in anticipating such challenges and helping our clients to handle them effectively and efficiently. Our success has proven we are on the right track. In the past year RSM GmbH was able to grow by six percent - well over average for the industry. By expanding the Frankfurt branch, we want to continue to grow at this speed and to produce many more stories of success."