Information and Cyber Security Risk
Organisations face the dual challenge of meeting client needs and protecting their information. Evolving business needs, disruptive technologies and changing compliance requirements often introduce challenges and risks to the organisation.
Confusing regulations, antiquated systems, acquisitions and limited resources can leave organisations exposed and provide roadblocks, keeping them from implementing a consistent, repeatable and sustainable security program against cyber threats.
---
As cyber security continues to affect the bottom line, the need to continually assess and improve your security program is paramount.
---
RSM's cloud security assessment demonstrates the value and use case for organisations within your industry to leverage cloud services, cloud access security brokers and related components that drive toward improved security measures in the cloud.

To compound an already complex cyber landscape, companies now are facing liability for significant penalties even when no data breach occurs. This is due to new compliance requirements dictating how sensitive data can be stored and used.
With evolving data privacy regulations, such as the General Data Protection Regulation (GDPR) and the Australian Privacy Principles (APP), organisations must be aware of how they are handling their customer's personal data and sensitive information. This includes customer permission to even possess the data, and the different regulations they are required to comply with.
---

RSM's risk consultants combine industry and technical experience to tailor our approach to your unique business. This allows us to identify your highest risks and help plan for protection and compliance. We work with you to:
Assess physical, cyber and personnel vulnerabilities from various attack scenarios
Design, implement and manage your enterprise security program
Develop a program to proactively comply with evolving data privacy regulations
Use digital forensics for swift attention to security breaches or civil/criminal litigation issues
Build a compliance program that aligns to various regulations such as GDPR, PCI, NIST, HIPAA and APP
Develop an agile governance structure across all facets of security that aligns with your business strategy
Build a culture and awareness around key cyber security considerations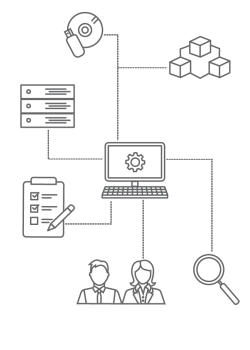 ---
With guidance from RSM's Cyber Security and Privacy risk consultants, you can drive your business forward with confidence, knowing your most important assets are protected.
---
Benefits
RSM has a variety of professionals who are well-versed in many different industries. With their experience, they can help provide an organisation with direction and resources to assist in augmenting information technology staff and leaders to meet operational requirements.
In addition, our team of professionals can help security leaders show a return on investment through collaboration and development of key metrics.
---
Who needs this?
If your business is currently facing difficulties in meeting required security standards or is failing to meet your own internally set goals, our Cyber Security governance and compliance service will be beneficial to you. Our knowledgeable staff will collaborate with you to determine your information security needs.
Overview of Services
Viewing your organisation holistically, we will assess your organisation's security and privacy technical, compliance and risk management environments. Following the evaluation, your team will know where any existing holes are, how to fix them and how best to manage the metrics going forward.
After collaborating with you to understand and assess your information security needs, our professionals help you identify a governance framework to fit your needs. Some widely used governance frameworks include:
International Organization for Standardization (e.g., ISO 27001/27002)
National Institute of Standards and Technology (e.g., NIST CSF, NIST SP800-53, 800-171, etc)
Center for Internet Security (CIS Critical Security Controls, CIS Benchmarks)
Governmental standards, such as The Essential Eight, ISM, PSPF, VPDSF and others
Payment Card Industry Data Security Standard (PCI DSS)
Industry best practices from the SANS Institute, ISACA, ISC2
We recognise that methodologies and frameworks may not always be "one size fits all." Our team helps you adapt or blend standard frameworks or custom tailors a unified controls framework to address your unique needs.
Once a framework has been identified or created, RSM can help you fulfil the requirements or recommendations of that framework with our additional compliance and governance service offerings:
Data and system classification
Policy and governance
Operational and technical security risks
Compliance/regulatory/legal exposure
Business continuity capabilities
Internal security
Wireless communications
Physical security
---
When conducting our cyber security assessments, RSM performs a holistic approach to evaluate your controls and potential gaps that may exist. We then work with our clients to determine which approach best suits their needs by applying the following methodology: