We provide a comprehensive range of assurance and consulting services designed to strengthen and streamline ESG Strategy Development, Integrated ESG Risk Management and Reporting.
What is ESG?
ESG - usually synonymous with sustainability is an acronym for environmental, social, and governance issues, which together form the three pillars of a holistic, sustainable corporate strategy.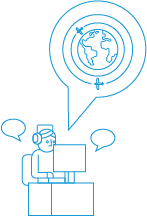 They form the foundation of an organisation's responsibility towards society, the economy, and the environment. ESG reporting is an important way for companies to report on and showcase their commitment to the core values of the organisation.
How can we help?
Working across a variety of sectors, we have extensive expertise in the regulatory reporting frameworks and sustainability standards. Our goal is to empower your organisation, to not only meet its requirements, but to drive innovation in ways that positively impact the environment, communities and the business.
While ESG has always had some level of disclosure in business reporting, investors/shareholders, financiers, customers, suppliers, insurance providers and employees are increasingly demanding greater transparency and a clearer understanding of how they integrate and affect the future of the business as a whole.
We partner with clients that are on their ESG journey, by providing a tailored approach to its current state of maturity (whilst also considering the desired state) by offering pragmatic support through the delivery of the various ESG strategic activities, or through the provisions of independent assurance on sustainability reporting disclosures and business performance.
KEY CONTACT
---
How can we help you?
RSM holds extensive experience across the full spectrum of ESG in various industry sectors. We can bring together a team of in-house expertise in your industry to help you with:
  ESG Maturity Assessments
  Development of ESG Strategies and Comprehensive ESG Roadmaps, that breakdown silos and aim to enable a holistic view of ESG
  Facilitation Material Matters Assessments
  Facilitations of ESG Risk Assessments including Scenario Testing
  Establishing ESG Targets and Goals
 Establishing Processes for Performance Monitoring against ESG Targets and Goals
  Establishing ESG Governance Frameworks and Structures
  Preparation of Sustainability Reports and Non-Financial Risk Reporting Disclosures
  Gap analysis against the Task Force on Climate-Related Financial Disclosures ("TCFD") Recommendations
  Development of Net Zero/Carbon Neutral Strategies (including baseline measurement)
  Sustainability Reporting Assurance
  Climate Change and Carbon Risk Management
  Supply Chain and Modern Slavery Assessments
  Evaluating Partnerships or Investments in line with ESG
  Verifying the Integrity of Sustainability Schemes and Energy Efficiency Projects
  Integrating ESG into Shareholder Reporting
  Gap analysis against the Global Reporting Initiative (GRI) Standards, Sustainability Accounting Standards Board (SASB) Standards, or Carbon Disclosure Project (CDP) Standards.
To speak with an environmental, social and governance consultant, contact your local RSM office today.
Sustainability Matters Video Series
Get in touch with our Risk Advisory team