In our fast paced and overloaded world most people want to create better results in both their business and personal life but not at the cost of increasing their stress levels.
There is no point in technical and professional development if we don't have personal development. Yet most people and companies / organisations spend lots of time and money on their technical and professional development and neglect personal development. 
Many are reporting that their stress is at an all time high (as reflected in our society with the rise in depression and anxiety rates). The traditional stress management techniques like increasing exercise or improving diet have their limits and many top performers here are already using those ideas to the max.
So is there a solution that will give better results with less stress? Hundreds of scientific studies have shown that Mindfulness helps us increase our resourcefulness, productivity, creativity and resilience whilst teaching us to stop making stress.
Through a simple, scientifically proven process, mindfulness helps us to quieten our minds, find our own inner strength and stop taking that little voice in our head so seriously. The approach is now being used by high achievers all over the world to help them achieve more but with less stress. We appreciate that the concept of being audited or checked up on induces stress in some people. Yet an awareness of stress is that it is something we do to ourselves rather than is done to us. So while we hope we don't induce stress in our  clients, hopefully a greater awareness of it will help it in not being an issue.
Our gift to you!
Join John Shackleton as he takes us through the basics of mindfulness meditation and its effects on wellbeing and will help you to:
Develop sustained attention
Reduce fear to become relaxed, focused and at ease in all situations
Make better, quicker decisions
Stay poised under pressure
Improve health and well-being
Reduce feelings of anxiety and depressions
Improve connection and collaboration
Who should attend?
All!
When:
Wednesday 30 August, 4.30 - 6.30pm. Complimentary to clients and contacts of RSM, drinks and nibbles provided
Where:
Please join us in our new function space on Level 1, 1 Broadway, Newmarket. 


Register directly above or email ema.latu@rsmnz.co.nz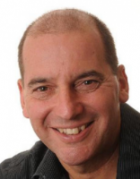 John Shackleton
With a background in Sports Psychology, for the last 25 years John has been a speaker, trainer and success coach to the corporate world. He has helped top performers from sport and business achieve their goals and is now focusing on helping us all achieve whilst dealing with our ever increasing stress levels. John has lived in Ararimu for the last 14 years.