Our focus is on being a data-informed and insights-driven organisation. With streamlined processes, augmented intelligence, and a focus on continuous improvement, we want to be known for our agility and efficiency.
At RSM, we know that the value we bring stems from using a combination of world-class technology and expert human insight, and that the use of new technologies brings both opportunity and risk. Opportunity to move faster, more effectively and with more efficiency in supporting both our clients and our people, but risk from the increased threat of cybercrime, data mismanagement, and often lack of IT training. 
Recognising this, in 2022 RSM recruited Nicola McCoy as Chief Information Security Officer, who now leads RSM's Information Security Risk Committee. Over 2022, Nicola worked as part of a wider collaborative international team of RSM experts to develop a Data Strategy. This Data Strategy seeks to create common data models across the global organisation in order that we can better leverage data to provide sustainable and impactful solutions, personalised experiences and insight, and to facilitate insight-led decision making. 
Underpinning all of this is a continued global focus on IT security and quality. In 2022, RSM made great progress in working with RSM Member Firms on achieving and maintaining their ISO 27001 accreditation – an international standard to manage information security. RSM also launched RSM InTrust, a new integrated global independence, entity management and service authorisation system.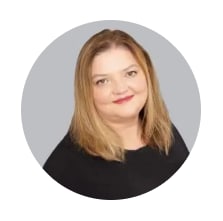 " We are focused on being an insights-driven global organisation. As we effectively capture and analyse information across a range of fundamental metrics, we are able to leverage data to actively inform our thinking – basing our decision-making on both expert human intuition and insights based on data."
Nicola McCoy      
Chief Information Security Officer
Data management at RSM
A spotlight on: RSM Global Innovation Hub
RSM has a strong culture of entrepreneurialism and technological innovation. The RSM Innovation Hub was launched as a state-of-the-art technology platform for ideation and the development and launch of solutions. This began with internal pilots, and quickly moved to campaigns focused on internal opportunities, such as process improvements, new ways to meet ESG goals, and talent retention.
Since its inception, the RSM Innovation Hub has hosted 36 campaigns, logged 434 idea submissions, and seen 2,350 visitors - enabling faster problem-solving, more diverse thinking, and unlocking the potential of innovation.