"We have an excellent working relationship with RSM, in particular with the audit team. It is an open and frank relationship and it is definitely a high trust relationship.
We were looking for some business advice and expertise in terms of what's happening in the pharmacy market generally as we are looking to expand and we were able to access that resource from within RSM as they have a company expert who was able to provide a very useful and very pertinent presentation to the board".
Lynne McLennan, Chief Executive Officer
---
UFS Dispensaries case study
The journey
The journey that UFS Dispensaries has been on since it opened its doors over 130 years ago is as revolutionary as the changes the pharmaceutical sector has undergone in that time. With humble beginnings that started with the opening of its first dispensary in Ballarat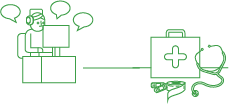 under the auspice of sole dispenser Thomas Reid Treloar, today not-for-profit based organisation UFS has a stable of nineteen pharmacies, three medical centres, a specialty gift shop Cherub Gifts and a day spa Peace & Quiet, spread across Western Victoria.
The challenge
With 460 staff including 40 contracted general practitioners and allied health professionals, UFS is a thriving brand, renowned in the communities it operates in and synonymous with good health and wellness. Whilst it has a long and rich heritage which should stand any test of time, regulatory changes brought about by Pharmaceutical Benefits Scheme(PBS) reform over the last few years has had a huge impact on UFS' revenue.
CEO Lynne McLennan says PBS reform has led to a massive reduction in revenue for pharmacies such as UFS.
'There is significant pressure to improve processes and reduce costs in order to remain viable for another 130 years,' adds Ms McLennan.
Managing change, capitalising on opportunities
T

he need for advice from specialists who understand these challenges and others such as increasing price disclosure and competition which affect profitability and capital value was imperative for UFS. It was also part of the reason they turned to experienced Ballarat-based audit partner, John Findlay and his team.
'In planning for the next financial year, our pharmacy specialist Peter Saccasan presented to the board on emerging issues in the pharmaceutical and healthcare sector which was much appreciated in their deliberations for the next 12 months,' explains Mr Findlay.
In a sector that has had to respond quite quickly to regulatory changes, Ms McLennan says the breadth and depth of the firm's national network with its ability to access expertise from industry specialists such as Mr Saccasan has been incredibly valuable.
As UFS looks to the future and its next chapter on growth, the visionary brand is committed to taking innovative leaps by adapting for the times in ways that will seek to reimagine possibilities.
---
Additional Client Case Studies