Is your Management Reporting as useful, or sophisticated, as it should be? Or are you lagging behind in the digital age?
Businesses in the SME space are leveraging technology to improve business performance as sophisticated management reporting and data tools become increasingly accessible.
Technology advancements, and an explosion in user friendly, off-the-shelf, digital solutions, coupled with an increased focussed on the importance of business data, are giving modern business owners access to better data to help them with business decisions.
What is dashboarding?
Dashboarding is centralised, visual, management reporting. Dashboards are designed to give business owners and managers a quick and easy way to access and analyze important data, helping them to make more informed decisions and improve the overall performance of their business.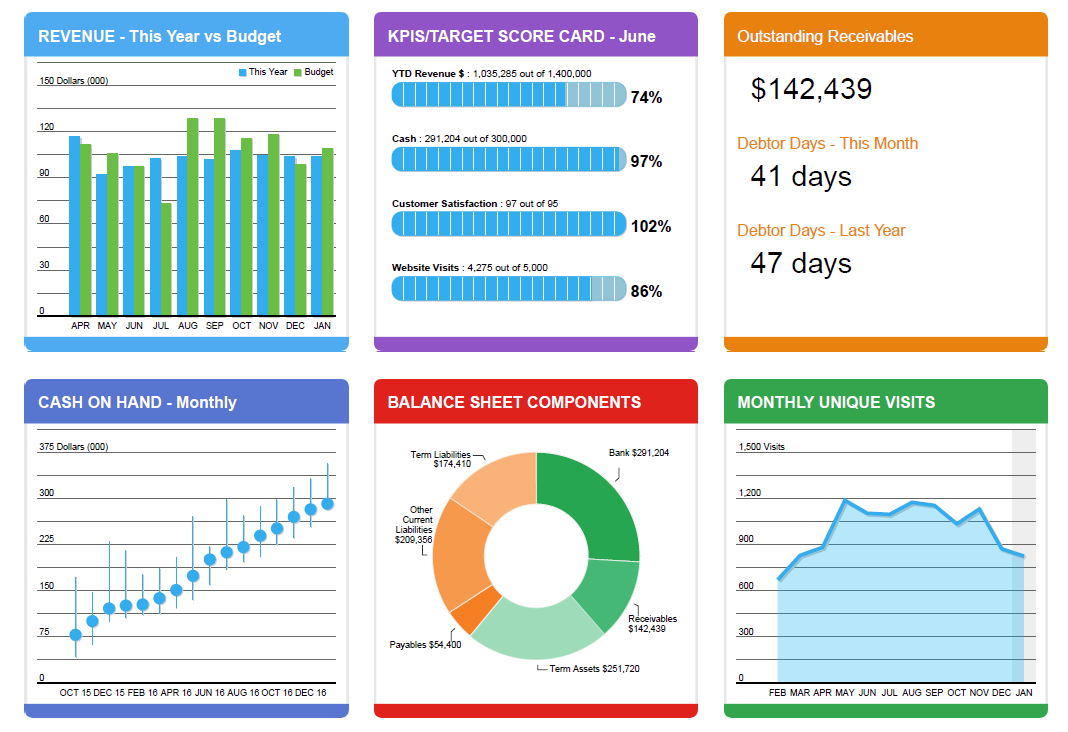 Management reporting software allows business owners to:
Extract data from accounting platforms and other data sources, in real time, and with no manual effort; and
Package key data in a way that is easily accessible, visual, and ultimately actionable;
Some common Management Reporting platforms that you may have heard of include:
Spotlight
Power BI
Tableau
Qlikview
At RSM we often see our clients enter the world of analytics and reporting with simple off the shelf products, such as Spotlight, or more tailored solutions in a platform like PowerBI. Superseding clunky, manual, historic management reporting processes, such as Excel workbooks.
As businesses grow, or they discover that that they have valuable data, they begin to explore more sophisticated platforms and data tools to leverage for their business growth.
Questions for the business owner:
Is your Management Reporting process too time consuming, or manual?
Does your business have unique data points that could be leveraged to better drive growth?​
Advantages of a good Management Reporting tool
Customisable dashboard software presents your data in a way that is easy to understand. This can be especially helpful for small business owners and managers who may prefer to view data graphically and visually.
Another advantage of dashboard software is the ability to access data from multiple sources in one place, which can provide a more complete picture of your business's performance. For example, software can connect your accounting system, customer relationship management (CRM) system, and your e-commerce platform, allowing you to see all of your data in one place.
This includes combining things that are not historically placed together – E.g. financial and non-financial data
Software solutions create the ability to move beyond a simple P&L or single level financial metrics.
What other data sources could you combine with your financial information to better understand your business?
Product sales and volume data
Customer data
Automation
Instead of manually collecting and analyzing data, software can automate this for you, providing you with real-time information on your business's performance, helping you to identify trends or issues and make adjustments to your business strategy.

Benefits of automated reporting include:
Time – Automation can save time and resources in Management reporting by eliminating manual data collection and analysis, replacing that with an automated process.
Accuracy – Reports automatically update for any changes in data, prior period adjustments etc. Accurate and consistent data will improve decision making.
The old model: Extracting reports from accounting and other software, pasting to excel, updating and reviewing formulas, printing
is replaced by
The New model: Software automating that process, and populating a Dashboard with real time data
---
Once you understand your business, the question then becomes how do you use that data to develop strategy, or improve performance?
Example: Forecasting and budgeting
Leveraging a data tool to automate budgets, update for actual results through the year, and improve analysis by incorporating non-financial metrics (e.g. sales volumes), or building out three way forecasts (BS, P&L and cash flow) is a classic example of using digital tools to easily improve a business data process.
Investment
The cost of digital solutions and platforms continues to come down, and automation and data projects can range from as cheap as a small monthly platform subscription fee and investment of some of your time, through to larger undertakings for big businesses with many data points.
But certainly management reporting and data analytics is now accessible to any size business.
RSM Solutions
RSM can assist with your data analytics journey, form provision of high-level advice and guidance for you to run a project yourself, to delivery of sophisticated management reporting for you. To find out more, get in touch with your local office today.