As discussed in part one of the series The Six Fundamentals of a Strong Financial Plan, it's important to remember that there are always going to be events that are happening locally or internationally that will impact financial markets.
What's important is your view and plan for the long term ensuring that you have adequately prepared yourself across each of the financial pillars.
Previously we discussed the importance of 'managing your cash flow' as a core pillar to a strong financial plan. Cash flow ensures that you maintain the all-important lifeline to your personal finances.
The next pillar focuses on protecting yourself and your family from disaster to support your wealth creation plan.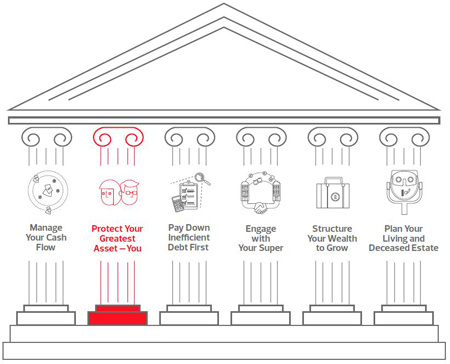 #2 - Protect Your Greatest Asset –You...
One of your greatest assets you'll ever have is your ability to generate an income, which is based on your ability and capacity for ongoing good health.
So when considering the possibility of serious illness, injury or death impacting the lifestyle of you or your family, the risk of losing this asset is not something that should be taken lightly.
Without an ongoing wage or income from gainful employment, your capacity to maintain a lifestyle of your choosing is significantly inhibited. Taking measures to ensure your earned income is protected in the event of injury or illness is paramount to the protection the continuity of lifestyle for you and your family.
Appropriate and well-structured insurances providing income protection tailored specifically to your circumstances is the second key pillar to your solid Personal Financial Plan.
Additionally, there are other situations where the household is impacted by an injury or illness which potentially leaves you seriously ill, disabled or worse deceased. In these situations, other financial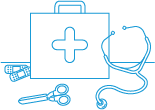 commitments reliant on your continued earning such as mortgages, retirement plans and even the need to modify a home to account for a disability, will need to be accounted for. This is where the right trauma, disability, and life cover becomes a key part of the risk management of your financial future.
When obtaining any kind of insurance it is also important to give consideration to matters such as:
The structure of the cover (i.e. should it be owned through superannuation or personally and what are the advantages and disadvantages of each of these options?)
What are the tax consequences applicable to the premiums paid and what is the tax on any benefits received as a result of a claim?
Is my cover with a quality provider that has a strong track record of claims payouts and has clear and concise definitions of items they cover?
Key questions you should be asking yourself when it comes to the impact injury, illness, disability or death might have in the household are:
Are my beneficiaries provided for in the event of my illness or death?
Is my income protected if I am injured and unable to work?
Would I be able to meet any additional costs as a result of having suffered a traumatic event?
Do I have existing cover through my superannuation fund, what is the cost of it and does it reflect my circumstances?
Managing your personal risk is something that should not be taken lightly is an expense that many people find difficult to justify until they need to claim.
now available
pillar #3 - Paying Down Inefficient Debt First -
Inefficient debt is best described as a loan which you can't claim a...
For more information, contact your local Financial Services team today.