RSM Australia were the proud recipients of the Employer of Choice award over the weekend at the Albury-Wodonga Business Chamber Awards.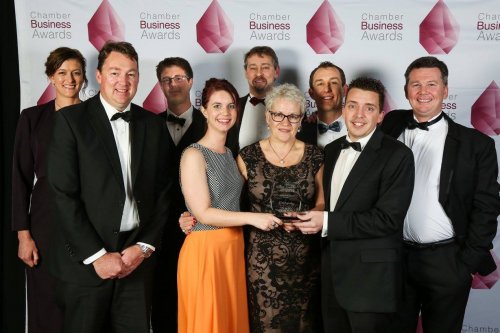 The black tie event was a chance for the local business community to celebrate and be recognised for their achievements.
"We were initially just pleased to be listed as a finalist as there was some tough competition. We were very honoured to then go on to take out the award for the Employer of Choice category," said Peter Nicol, who is one of three Directors in the Albury office. "Our Albury office is proud of our positive culture, which has been built over many years. We're really appreciative of our staff and always endeavour to support their development and growth in both their professional and personal lives".
As well as being an active contributor to the business community, RSM strive to support the wider community. The Albury RSM team has participated in volunteer and fundraising events over many years and have fostered a culture of giving-back amongst the staff. They support many local sporting teams, staff & clients in fundraising events, such as the City2City and Nail Can Hill Run. Several of the senior staff also volunteer their time on boards, committees and provide mentoring advice.
As an employer, RSM have put in place a variety of policies and employee benefits that demonstrate a long-standing commitment to their staff and have been in place for some time. RSM continues to add to, and improve on, existing initiatives, with the aim to continue to be an employer of choice both nationally and locally, here in Albury.
The Albury team of RSM are passionate about backing the economic wealth of the Murray region by contributing 30 wages for local residents and supporting over 440 local businesses, who choose to partner with RSM Albury for their business consulting and accounting.
The Albury-Wodonga Business Chamber Awards is a well-recognised annual event which provides local businesses the opportunity to be recognised in eleven different categories. The judges assess each business based on a series of criteria before making their selection for finalists and selecting a winner.
Image credit: Albury-Wodonga Chamber Business Awards