In today's challenging market conditions, companies often have a lower tolerance for "surprises" and a greater need to manage risk day-to-day.
It is clear that change can cause discomfort and uncertainty.
Enterprise risk management (ERM) is an ongoing assessment that identifies potential risk exposures that could prevent your company from meeting its strategic goals and objectives. We delve deeper than a basic risk assessment; because it is continuous in nature, it helps to provide an organisation with the flags and markers it needs to keep it on course, steering it away from potential trouble.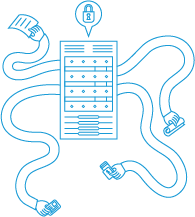 At RSM, we believe that unless the board members and senior management fully understand the level of risks faced by an organisation, and enterprise wide is willing and able to take in pursuit of value creation, it will be difficult for the board of directors to effectively fulfill its risk oversight role. ERM is not static, but rather a continuous process. Through our extensive experience and the desire to assist our clients in achieving success, RSM can set the ground work for effective ERM within your organisation.
---
Several formal ERM frameworks are available today (such as COSO ERM and the principles of ISO 31000) which we are very familiar with.     
 
However, not all organisations are the same, and therefore a 'one-size-fits all' solution to risk management does not exist.
Your organisation may operate:
in complex financial markets
with unique products and services
in diverse technologies
with complex business processes
with simple business processes
Our team of ERM professionals work with your organisation to develop and embed an integrated risk strategy framework customised to your business and risk appetite.
This is implemented in five stages:
Risk framework development
Risk assessment and prioritisation
Identification and effectiveness of existing controls
Risk treatment and strategies
Risk validation and monitoring
For companies with existing frameworks in place, we also provide certain ERM services in isolation that include:
   Risk assessments and workshops (combined top-down and bottom-up approach)
   Evaluation of risk management frameworks assessing against best practice
  Development of enterprise risk appetite statements and its communication throughout your organisation
   Risk maturity and cultural assessments
  Evaluation of risk reporting and development of risk profiles
  Assessment, design, and implementation of a strategic risk register
  Risk management software systems
  ERM training
Get in touch with our Risk Advisory team
Taking steps to manage risk today ensures you protect your business and its operations in the future.