Mark Prascevic, owner of Oz Trees in Colac, Victoria, has experienced the highs and lows of owning and operating a native plant business. However, Mark says that it is the confidence that director Brad Eppingstall and accountant Simon Ward from RSM's Ballarat office give him that have helped him improve business efficiency and the bottom-line.
Confidence, teamed with good business advice, has meant that Oz Trees could manage two significant challenges facing the business – costs and the impact of the drought. With each challenge faced, Mark and the team created opportunities to enter new markets, purchased equipment to improve efficiencies and the implemented strategies to mitigate risks and deal with fluctuating costs in a price sensitive market.
Just over five years ago, Mark was talking to a friend in Colac who recommended he meet with his accountant Brad Eppingstall. Since that initial meeting, Mark's outlook on his business has changed and he attributes this to the relationship that he has with Brad.
Mark said, "Brad has helped me realise that I needed to look after my business and myself. There is life after work and only paying attention to this month's financial commitments isn't a long term strategy".
It is the set-up of a self-managed superannuation fund (SMSF) that has been the most significant business advice that Mark has received. Mark said, "Brad invited me to a presentation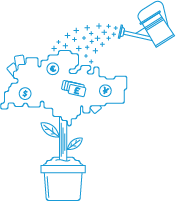 on self-managed superannuation funds. I wasn't sure at that stage, but after a gentle push, I realised the long term potential".
The three words that Mark used to describe his relationship with Brad and RSM are confidence, positivity and forward-planning. Because of this Mark now has a more positive long-term outlook for Oz Trees.
Mark said "You need someone when you haven't done something before to give you the confidence to do it. RSM showed that they understood my business, were interested in what I was doing and that they would take me under their wing".
Oz Trees is now embarking on its next growth plan, entering into a new market selling boutique garden plants, targeting the dryer, low-water use garden retail market. Having seen the positive results that a SMSF has brought the business, Mark will be working with Brad and RSM to see how he can leverage this to make it a success.   
---
Additional client case studies