Six8 is one of the new and unique players in the sharing economy space with the vision to make live music accessible for everyone.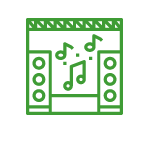 Launched in Sydney in 2017, Six8 is an early stage start-up focussed on bringing technological innovation to the music industry.
More than a business, Six8 is a community of artists and live music enthusiasts who are all brought together through a technical platform – a website and an app.
RSM Client Case Study | Six8
---
LIVE MUSIC FOR EVERYONE
The company's goals were initially geared at addressing two key issues in the industry. From the perspective of the audience or potential customers, a key challenge was booking local artists without the proper industry connections. The other issue was artists often feeling undervalued and finding it hard to earn a living from live music. The platform that Six8 developed has been a gamechanger for the industry and helped overcome these issues. Since its inception three years ago, Six8 has grown rapidly with artists across Australia who continue to be booked for house parties, weddings and corporate events, among others. Now, they are ready to face a new challenge, that of business growth.
---
A RELATIONSHIP OF TRUST
Six8 was looking for a relationship with an adviser they would be able to build trust and grow with.
"We were looking for an organisation that would support us in the early stage of the company and be available whilst we grow and scale the business." Saurabh Das, Founding Partner and Chairman of Six8
RSM's Principal in Tax Services, Mary Lai, has known Saurabh through the preparation of his personal tax return. Towards the end of 2016, banking on that existing relationship, Saurabh informed RSM about how he's invested a large sum of money in a business venture and would like RSM to be involved.
Mary says that Saurabh's passion for the industry was refreshing. "He had that vision of wanting to do something for the live music industry. He saw the gap in the industry and made the effort to do something and make a difference."
In searching for the right business advisor, Six8 knew that good governance would add value to their business even in the early stages and that they needed someone with an accounting skillset because they didn't have a CFO. "We needed someone to help us establish the small business and to set us up for growth, from day one", Saurabh adds.
START-UP CHALLENGES
In addition to funding, some of the common challenges that start-ups face include how to incentivise key employees and attract talent. RSM was quick to provide assistance with advice on employee share schemes and addressing valuation issues
Mary adds, "It was very important that we were fast in providing solutions, whether accounting or tax and in connecting them to the right people with the right expertise and at the right time."
From an R&D perspective, Jessica Olivier, RSM's Partner and a director of the Tax Services division, says R&D funding was particularly attractive to Six8 to help get them through the first years of pre-revenue and pre-trading with hefty development spend.
"To be with them on that journey from company incorporation to product inception, especially given three years ago there was nothing in the market like it, was particularly interesting for us."
In summary, some of the key services RSM provides Six8 include:
General tax compliance and tax advisory
R&D Tax
Company secretarial work
Lodgement with ASIC
Setup of cloud accounting
Corporate Finance for valuation issues
WHAT'S NEXT FOR SIX8?
Saurabh's role primarily revolves around strategy, vision and culture, and he says that the next step for Six8 would be growth and scaling and that they need support in this aspect from partners like RSM.
"Our next challenge is scalability. We had a great period where we were remaining viable for as long as possible, and the next phase is growing – in five years' time, we hope to have a very strong, growing and established Australian business plus 3 or 4 new country entries."
Saurabh says that the three words he would use to describe RSM are trust, responsiveness, and value-adding.
RSM continues to provide strategic advice to Six8, including tapping into new markets and jurisdictions and structuring the business for international expansion. "We were acutely aware of RSM's Australian and international reach. What we weren't aware of is how quickly we could leverage their international breadth of network to be able to add value directly to Six8.", adds Saurabh.