The engineering industry in Australia is poised for significant growth in the next five to 10 years.
The continued growth in the oil and gas sector, transport infrastructure, electricity generation and supply, and sewerage and water supply projects will mean boom time for the industry. It is crucial for engineering business owners to find opportunities and take advantage of this growth period.
We work closely with engineering companies to help them make strategic decisions in an environment with converging markets. We understand the complexities faced by business owners, from the demand for lower-priced contracts to shorter completion times to environmentally sound designs and increased competition.

With their sound industry knowledge and financial expertise, our engineering specialists provide advisory, assurance and tax insights surrounding key issues in the industry. With our level of expertise in the industry, we are able to anticipate challenges and present opportunities to our clients.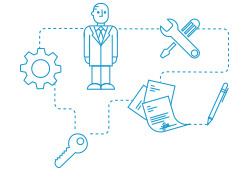 Speak to one of our advisers specialising in the engineering industry today to receive high quality advice on your business plan and operations.
KEY CONTACT
---
How can we help you?

Our tax, audit and accounting specialists provide a range of services for organisations in the engineering industry.
We dig deeper to truly understand every client and the business environment they're operating in and by doing so, we identify emerging opportunities and pre-empt challenges with the right solutions.