The construction sector is expected to face significant difficulties sourcing construction materials, primarily based in China, and other parts of Asia due to the outbreak of the Coronavirus (COVID-19). However, these supply chain shortages are not anticipated to be too delayed, with recovery expected by the second half of 2020.
In the short-term, construction projects may be delayed if construction materials cannot be sourced, but opportunities could present themselves if alternate sourcing of materials based in Australia can meet industry demand. 
According to the Australian Construction Industry Forum (ACIF), Australia imports approximately 60% of its annual $6 bn spent on construction materials from China. Furthermore, the Housing Industry Association estimates the construction sector employs around $1.1m Australians.

The risks to the construction sector go broader than just supply chain disruptions. If the virus impacts on the health of workers, workers are more likely to stay home due to the highly integrated nature of the construction sector workforce according to ACIF. Tourism and travel restrictions could also impact staff availability, putting pressure on the ability to access skilled labour to work on projects.
Supply chain restrictions from China, also present the opportunity to diversify sourcing of construction materials in Australia. ACIF reports many Australian based companies specialising in construction materials have experienced significant increases in demand since the outbreak of the Coronavirus. Collaboration between government and industry will enable the Australian market, or subsequently alternative markets, to fill the void left by the stalled Chinese construction industry.
According to data published by Master Builders Association (MBA), Australia sources 69.4% of our furniture, 56.4% of glass, 50.5% of clay, and 41.1% of nuts, screws and bolts from China. Delays are expected on constructions of building projects, as sourcing of these materials are anticipated to be difficult for up to six months -  but should ease in the long-run.
A concern raised by ACIF, was the ability of construction companies to be able to delay their builds for pandemic or illness purposes. The construction sector have also raised concerns about their ability to delay projects as commonly construction contracts don't recognise pandemics as a reason for delay.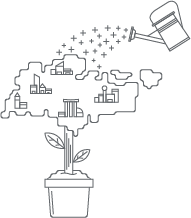 The Governments stimulus package is anticipated to ease the strain on the construction sector, with grants available for small to medium-sized businesses from $2,000 up to $25,000. They may also be eligible for wage subsidies to hire or retain apprentices, to avoid job losses during the slow period. Given approximately 90% of construction companies are small companies, this package is incredibly important to the sector, particularly given the slow growth experienced in 2019. Larger construction companies earning over $500m in revenues, will receive a raise in asset write-off levels and expediated depreciated deductions.
In 2019, the construction industry experienced relatively flat growth, with negative growth in the residential and engineering construction, and positive growth in non-residential construction. The MBA anticipate growth to remain sluggish until the end of the year, and negative growth rates are anticipated until 2022. The last four consecutive quarters have seen negative growth rates in the sector, falling far shorter than market forecasts. Residential construction took the largest hit, down 10% in 2019.
The construction sector has already been through significant downturns in 2018/19 and 2019/20 according to ACIF reports, who point to both the Royal Commission's credit crunch in 2019, and falling house prices in the last financial year. It is likely the sector will have to endure another period of slow or negative growth.
The RBA believe the stimulus package, combined with historically low-interest rates, will soften the impacts of the economic downturn from Coronavirus. In the past, similar levels of capital investment have been successful in minimising large-scale economic downturns, and are particularly important for small businesses.
---
For more information
If you require further information regarding the impact COVID-19 has on the Property and Construction sector, contact your local expert today.