Financial advisers and auditors for Canberra businesses and individuals.
The power of being understood is palpable, possibly even priceless.
For over 30 years, RSM's team of Canberra-based professionals has been partnering with individuals, business owners and organisations from all sectors and of all sizes, offering a full suite of specialise corporate and advisory services.
Address:            
Equinox, Building 4 

Level 2/70 Kent St, Deakin ACT 2600

 
 In recent times Australians have lived through bushfires, escalating international trade tensions, and a global pandemic that's sent our economy into a recession. 
Maybe your company is still prospering? Perhaps it's business as usual for you and your team? Or alarmingly you may have found yourself in financial hardship. Whatever your personal or business financial situation may be, the RSM team in Canberra is here to help.
We listen, we ask tough questions, we delve deeper, we offer tailored and sound solutions.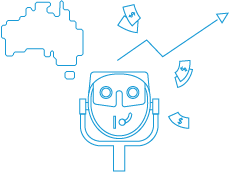 Drawing on our global network and local Canberra regional knowledge, we can help you enhance your business, find efficiencies, reduce costs, control risks and become more competitive. Or, if need be, we can help you assess whether continuing your business into the future is a viable option.
You can be assured we are always upfront and transparent about our fee structure and partner professionally with our clients, every step of the way.
From companies that deliver local products or services; to those that export, operate or are based overseas, RSM has the technical expertise and relationships to help your business. Our clients include individuals, private businesses, subsidiaries of international entities and large ASX publicly listed companies.
Our Canberra business accountants have specialist expertise in the following areas:
RSM in Canberra
Learn how the expert team at RSM Australia can help you or your business by contacting the team today.
Address
Equinox, Building 4, Level 2/70 Kent St, Deakin ACT 2600