In recent times, organisations have witnessed a transformation due to the pace and rate of market change driven by consumer demand and the adoption of technology.
A business's level of success can be defined by its ability to harness the potential of today's interconnected and technology-driven world. The importance of Crisis and Business Continuity Management has been emphasised by escalated market transformations driven by consumer demand, evolving technological advances and unforeseen global conditions (e.g. Covid-19).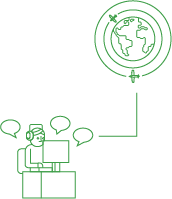 Disruption is still a wide phenomenon
Recent global surveys conducted by renowned bodies, presented by RSM, show how disruption is still a wide phenomenon, in terms of industry scale as well as impact: 
85% of survey respondents experienced at least one disruption in the year; 

Less than 50% of businesses checked whether business continuity programs are likely to be effective in practice; and 

Disruption in the supply chain led to a loss of productivity for almost half of businesses along with increased cost of working (38%) and loss of revenue (32%). 
On an average, enterprises valued that their loss was between $120,000 and $155,000 for every hour of system downtime. Due to this, organisations are realising that any disruption can have a severe business and financial impact, emphasising the need for effective business continuity planning.
Our approach is based upon years of helping organisations both prepare for unforeseen disruptions and demonstrate this readiness to business partners.
BCP is a living process that must be updated to reflect technological and organisational changes. An outdated plan that sits in a binder on a shelf is of little use in an emergency and could do more harm than good if it doesn't accurately reflect current recovery processes or organisational structures.
We welcome the opportunity to learn about your specific needs and define an approach that aligns best to your organisational objectives and risk appetite to ensure that your BCP best achieves its objective to:
Protect the workforce;  
Restrict the business impact during a disruption;  
Resume critical functions on a timely basis;  
Manage external interfaces;  
Re-assure stakeholders; and  
Ensure ongoing regulatory compliance.
Get in touch with our Risk Advisory team