31 August 2023, Thursday 9:00AM - 2:00PM
The ASEAN Conference 2023 will discuss the latest drivers of key developments shaping the Southeast Asia region. The conference will focus on the theme of "Forging a Digital and Sustainable ASEAN", and will explore the opportunities and challenges for businesses in the region.
Participants will have the opportunity to learn from expert speakers, network with business leaders and government officials, and unlock new business opportunities in one of the world's fastest-growing regions.
Find out how this transformation can present new opportunities for your business' growth.
This event is organised by Singapore Business Federation and jointly supported by United Overseas Bank, Rajah & Tann Singapore and RSM Singapore.
PROGRAMME: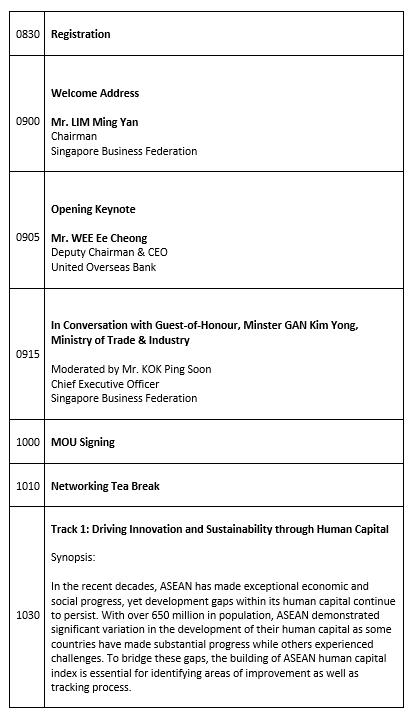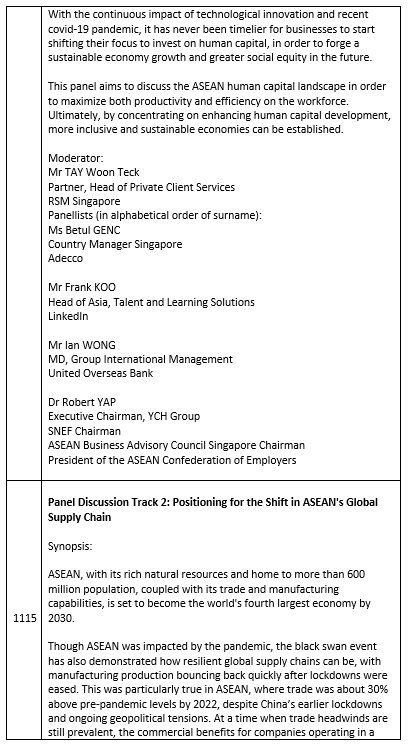 *Programme is subject to change.
EVENT DETAILS:
Click here to learn more.
ENQUIRIES  
Please email us at [email protected] or call +65 6594 7953.
NOTE  
The organisers reserve the right to change the venue, date and programme due to circumstances beyond our control.
PHOTOGRAPHY  
Please be informed that RSM or others on behalf of the firm and third parties may be taking photographs and videos during this seminar. The organisers may use such photos in their marketing materials, publications or media.
By attending the event, you consent to the use of your photograph, voice, likeness, and image in any broadcasts of this event and in subsequent productions drawn from video or audio recordings of this event. The photographs and recordings may be published or broadcasted in RSM and affiliates' publications and in publicity materials, including websites and social media. All recordings, articles, quotes, photographs, films, audio or video and/or any reproductions of same in any form, are the property of RSM. RSM, its affiliates, employees, representatives and agents are released from any and all claims, demands, costs and liability that may arise from the use of these interviews, recordings, photographs, videotapes or films, and/or any reproductions of same in any form, as described above, arising out of being interviewed, recorded, photographed, videotaped or filmed. It is the responsibility of event participants to remove themselves from group and candid shots/recordings that the photographers/videographers intend to capture, if they do not wish to have their photos/audio-visual recordings taken at the event.