Transaction Advisory Services for the health sector



Transaction Advisory Services for the health sector

All your Corporate Finance health needs
Our Corporate Finance health industry experts have a proven history of providing commercial and pragmatic business advice to the healthcare sector – we provide a full range of transaction advisory services, from M&A lead advisory, debt advisory, due diligence and technical services such as, valuations, tax advisory and financial modelling.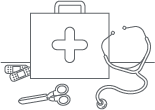 We understand the complexity of this industry and recognise that it faces unique challenges which require an innovative and multi-dimensional approach.

The RSM corporate finance team has extensive experience in providing transaction advisory to Australian and international business in the healthcare sector.
Our hands-on approach, with Partners being genuinely involved in the delivery of M&A services, differentiates us. We are experienced, accessible and flexible, we say what we mean and do not sit on the fence. This gives credibility with both our clients and their stakeholders
At RSM, our healthcare specialists have the technical skills and industry knowledge to provide practical advice and guidance to better manage your risks and take advantage of opportunities. Our industry-specific solutions are based on local, national and international experience partnering with healthcare organisations.
For more information on our Transaction Advisory Services >
Your first consultation is on us.
What we offer
RSM's specialist mergers and acquisitions team supports shareholders, management teams and other interested parties with advice based on our unique depth and breadth of experience.
Our services include:
Mergers & acquisitions and divestments
Due diligence
Capital markets & IPO support
Debt & capital advisory
Commercial valuation & expert reports
Commercial litigation and forensic accounting advice
Financial modelling
Sale and purchase agreement advisory