In the fast-paced digital age, trust is a valuable commodity for any organisation.
Maintaining customer confidence has been a key challenge in the finance sector. 
Customers entrust financial organisations with an enormous weight of sensitive data. The digital age has made many things easier; unfortunately losing customer trust is one of them. However, even when the worst happens, how your organisation responds can demonstrate why you deserve that trust.       
Bank of Baroda, one of India's leading banks, recently faced a crisis that threatened its reputation and customer loyalty. However, it also learned some valuable lessons that can help other organisations overcome similar difficulties in the digital era.
The digital age and its impact on customer trust in financial institutions
The digital age has revolutionised the banking industry. It has transformed the way customers interact with their banks and conduct financial transactions. Banking is more convenient than ever thanks to innovations like mobile banking and digital wallets. 
However, digital transformation has also introduced new challenges for banks. Many organisations have found it challenging to protect personal information through robust cyber security. 
As cases of cyber fraud, data breaches, and financial scams rise, customers are losing faith in their financial institutions.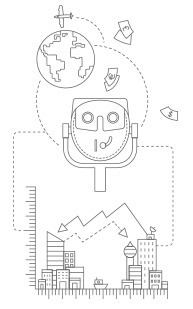 How the Bank of Baroda lost and rebuilt customer trust
Customer trust is vital for the success of any organisation, especially in the banking and finance sector. In these industries, customers rely on institutions to safeguard their money and personal information.
Allegations of money laundering and illicit transactions caused stakeholders to lose faith in the Bank of Baroda's integrity. 
"India's Bank of Baroda(BOB) made it simple and easy for its agents to steal money from the accounts of its customers. And some of them did steal 2.2 million rupees ($27,000) from 362 customers, internal audit reports and records of the bank have revealed." ~ Al Jazeera
This situation escalated when the Reserve Bank of India (RBI) suspended new customer onboarding on the BOB World app.       
To regain trust, the bank took proactive steps by openly addressing the issue. They provided regular updates and shared comprehensive plans to resolve the problems.
Through these actions, Bank of Baroda demonstrated its dedication to rectify the situation and win back its customers' confidence.
This incident highlights the resilience and adaptability required in today's rapidly evolving digital landscape. Most importantly, it underscores the crucial values of trust, transparency, and unwavering commitment to customer satisfaction in maintaining a reputable financial institution.
In the digital age, trust requires transparency
One of the key lessons learned from Bank of Baroda's experience is the importance of transparency. In a time when information travels at lightning speed, being open and honest with customers is crucial.
Build a culture of transparency and accountability within your organisation
The way BOB handled this crisis demonstrated their internal culture of transparency and accountability. The bank responded immediately, acknowledged the issues and launched an aggressive rectification drive. These actions show the institution's commitment to transparency.
Clear and open communication, both with customers and regulatory bodies, is vital. BOB proactively addressed stakeholder concerns and outlined the steps taken. Stakeholders view this as a genuine commitment to rectifying mistakes, which helps rebuild trust.
Navigating Regulatory Waters in the Digital Era
Regulatory compliance is the cornerstone of any banking institution's credibility.
The RBI directed the suspension of onboarding on BOB's mobile app due to material supervisory concerns. Rectifying that situation required a collaborative approach between the bank and the regulatory body. 
This collaborative approach is essential to create a strong banking ecosystem. Adherence to regulations becomes more than a requirement,  but signifies the organisation's commitment to customer safety.
BOB's dedication to satisfying the regulator's requirements is evident in its determined efforts to rectify the situation.
The Role of Internal Processes in digital security
At the heart of this incident lies the importance of internal processes and employee accountability.
This incident highlights the significance of comprehensive internal protocols to protect digital information. BOB's investigation revealed that business correspondents (BCs)were directly involved in onboarding new customers. This process gave agents the opportunity to link their own mobile numbers to customer accounts. 
The RBI's press release reiterated the importance of strong internal processes. The RBI said that they would lift the onboarding ban after, "further strengthening of related processes by the bank."
BOB are working aggressively to rectify this and any other compliance gaps in their procedures. Every employee must be well-versed in compliance procedures. BOB's actions, even working on Sunday's, illustrates their seriousness in pursuit of internal rectification.  Such commitment from top management filters down, ensuring every staff member understands the gravity of the situation.
Rebuilding Customer Trust in your digital channels
One of the primary concerns during any crisis is customer trust. A financial institution must show customers that:
Their information is secure
Their technology is robust
They have taken strong action to prevent any repeats of the incident
BOB's approach to rebuilding customer trust is through effective communication and proactive customer support. They demonstrated their credibility by assuring uninterrupted services while simultaneously implementing rigorous rectification processes. 
BOB also emphasised security of its Mobile Banking application. They first assured customers that their other digital apps were unaffected by this incident. They were able to back up this statement by showcasing their significant investments in technology. 
The Hindu Business Online reports,  "BoB has suspended about 60 senior officials, including 11 Assistant General Managers and a General Manager, after the Reserve Bank of India stopped the lender from further onboarding customers onto its 'bob World' mobile application."
Taking accountability and being open in their communication elevates BOB's assurance beyond rhetoric. Their dedication to finding the delicate balance between operational efficiency and customer satisfaction is clear. And their communication reflects a forward-thinking approach to technology. 
The Way Forward: Learning from Challenges
Every challenge is an opportunity for growth. BOB's journey through this incident offers essential lessons for the entire banking industry.
Embracing transparency, navigating regulatory waters collaboratively, strengthening internal processes, ensuring employee accountability and prioritising customer trust are more than boxes to check.
Surviving the digital world requires continuous improvement and adaptation
Banking institutions must evolve as we all adapt to a rapidly changing digital landscape. Evolve, learn from challenges and treat every customer interaction as an opportunity to reinforce trust and credibility.
In closing, BOB's story is not just theirs—it's a narrative that resonates across the banking sector. Upholding trust in the digital age requires more than technological prowess. It demands unwavering commitment, transparency and a customer-first approach.
FOR MORE INFORMATION
To learn more about digital adaptation or regulatory compliance, contact your local RSM Adviser.