Charities are at different stages of their digitalisation journeys. Some have started their journeys while others still fumble with how to start. In order to stay relevant, it is vital for charities to evolve with the changing expectations of today's tech-savvy generation. Charities have to leverage digital technologies to streamline processes, collaborate better with volunteers and stakeholders, deliver services more effectively to beneficiaries, increase social impact, sustain, and grow.
The Charities GoDigital Kit that was launched in November 2020, developed by the Ministry of Culture, Community & Youth ("MCCY"), aims to help charities embrace digitalisation as a support for their corporate and administrative functions.
According to the Kit, digitalisation helps to improve productivity and reduce operation costs. In addition, digitalisation allows charities to streamline their processes and operations to reduce repetitive work for higher efficiency.
There are three areas of opportunities for digitalisation: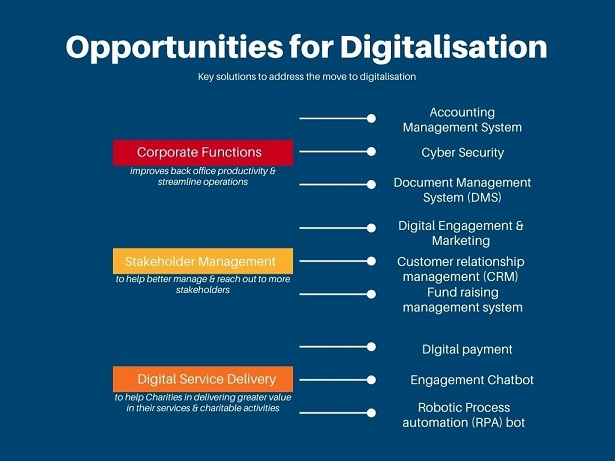 Source: https://www.charities.gov.sg/PublishingImages/Resource-and-Training/Publications/Others/Documents/MCCY Go Digital Kit.pdf
Develop and manage a digital transformation plan
Digital transformation is a cycle of change and progress from both technological and organisational standpoints. It is about constantly reassessing opportunities to do things better, faster, and more accurately. Organisations can consider this tried-and-tested, five-step strategy to develop a digital transformation plan: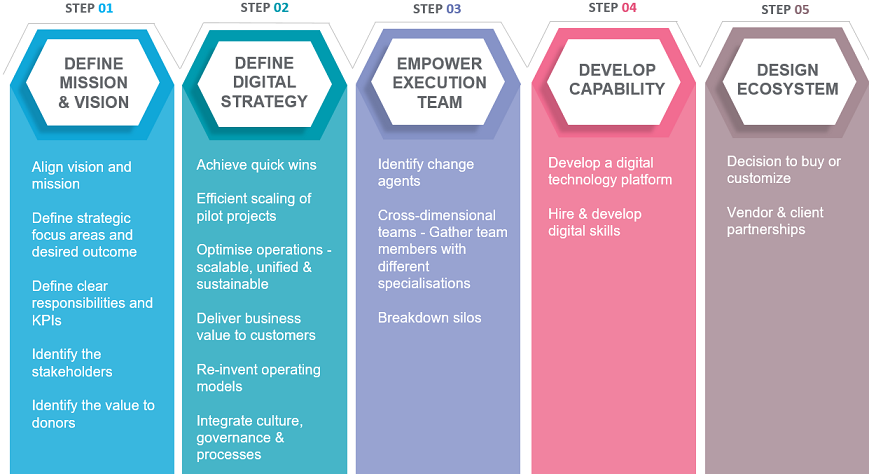 This five-step strategy begins with clear definitions and focus on mission, vision, and digital strategies. The management will then lead the taskforce to examine the current service cycle and identify gaps such as inefficiencies and failures, fill in new business model and processes, develop internal capabilities, and lastly to decide whether to buy or customise systems in building the organisation's digitalisation ecosystem.
Successful implementation of the strategy does not only require clear, defined focus and realistic outcomes but also effective internal communication to align employees' expectations with the organisation's objective. The management has to play an active role in developing a learning and growth culture. There should also be consistent engagements with employees through different means such as in-house newsletter and meetings so that no one is left out.
Digital defence
Cyberattacks have increased significantly and charities are not spared. The consequences of a successful hack can be dire. Researches show that a significant number of SMEs that fall victim to cyberattack ceases operation within six months after a cyberattack.
Even if the cybersecurity breach is not terminal, there can be other devastating impact on the organisation's revenue, reputation, and even significant costs incurred to fix the breach. The pressure to protect systems and data on cloud is real.
Charities should consider adopting "Zero Trust" to minimise these attacks. Zero Trust is a security measure that save-guards systems and data by verifying access to any of an organisation's system and data.
In addition to Zero Trust, the Personal Data Protection Act ("PDPA") requires charities to abide to legal obligations when it comes to how they collect and manage data. Being PDPA compliant is important in good corporate governance in any organisation, and charities would have been well advised to start reviewing their internal processes in order to identify and address gaps or shortcomings to comply with PDPA regulations.
Charities with limited resources should consider outsourcing their compliance function to external consultants as an option.
Where to get help
Charities starting their digital transformation, would usually need guidance and financial help to embark on the journey. The Government recognises this and has implemented initiatives to assist charities. These include: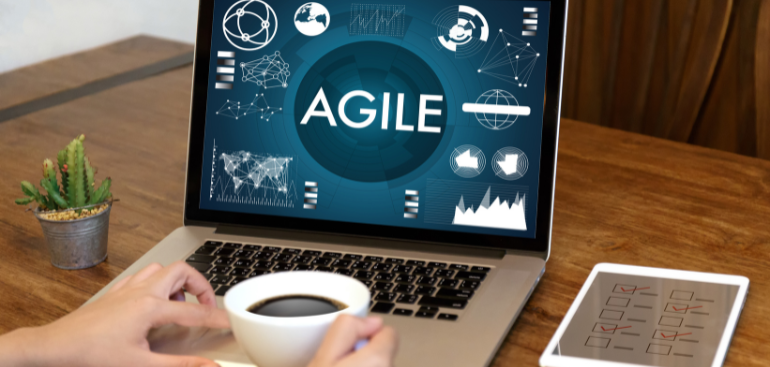 Conclusion
There are plenty of reasons why charities should digitalise – be it to achieve higher productivity, reduce costs or simplify work processes. Once the decision is made, the five-step strategy will come in handy:
Define Mission
Define Digital Strategy
Empower Team
Develop Capability
Design Ecosystem
No matter which stage of the digitalisation journey a charity is at, assistance and resources are available in forms of funding, capability support, and guides and tools.
If you need assistance on embarking on your digitalisation journey, please feel free to reach out to us:
Woo E-Sah
Partner & Head of Assurance
T +65 6594 7843
[email protected]
Sovann Giang
Senior Director & Deputy Industry Lead, Not-for-Profit Practice
T +65 6594 7892
[email protected]