The COVID-19 pandemic is an unprecedented crisis that continues to have widespread impact on many economies and industries. The Built Environment in Singapore is not spared. Continued border restrictions and required compliance with COVID-19 measures have reduced the supply of labour, resulting in companies needing to pay above market rate to secure labour.
For contracts entered into pre-COVID-19, the inability to pass these costs to customers has caused thin margins to be further squeezed. Deferrals of project completion dates have also resulted in delayed cash inflows for sub-contractors, often months after the work has been completed.
The Singapore Government ("Government"), through various budgets and initiatives rolled out in 2020, has been managing the impact of the pandemic on our economy and helping enterprises tide over this period. The Budget 2021 offered an extension to these measures with the intention to chart our collective recovery. During the recent May Day rally, Prime Minister Lee Hsien Loong also spoke about upcoming legislation and measures that support the sector. On 10 May 2021, an amendment to the COVID-19 (Temporary Measures) Act 2020 was published, to provide reliefs for construction contracts affected by increase in foreign manpower salary costs. In recent weeks, the Building and Construction Authority also announced further support in respect of eligible existing public sector construction contracts which continue to be impacted by COVID-19.
In the following infographic, we consider the key focus areas companies in the sector should adopt in the short term to sustain and survive, and the key pillars that will enable them to grow and thrive in the long term.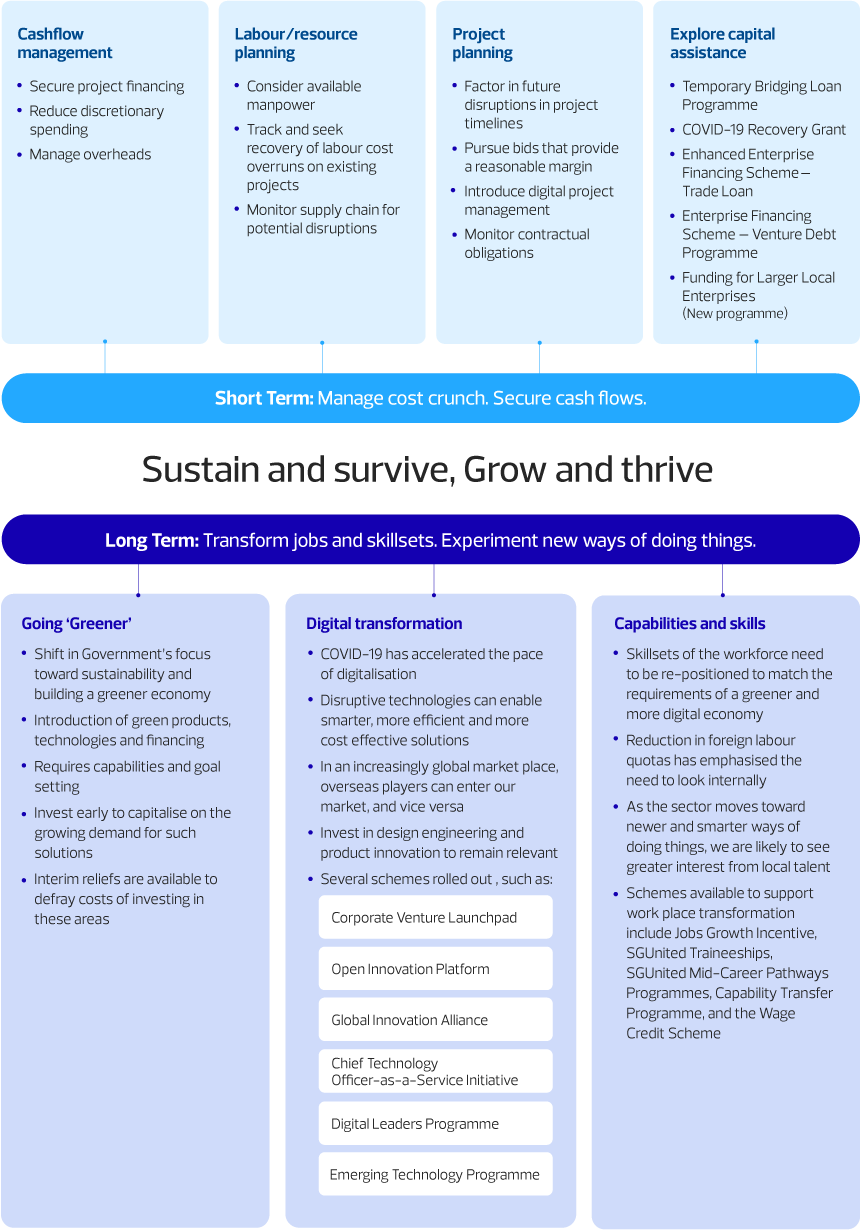 Conclusion
Businesses should remain prudent and maintain strong business acumen to sustain and survive this period. Recovery is expected to meet a number of speedbumps, an example of which is the current Phase 2 (Heightened Alert), which has placed the Built Environment under more pressure from project deadlines, indirectly caused by further intensified worker health and safety measures.
The Built Environment has to be adaptable and factor in similar possible future disruptions in these uncertain times. With many of the larger public infrastructure projects facing delays, businesses should explore bidding for smaller but viable projects in the short term. Businesses should also be pro-active in experimenting new methods of working, as it is likely that construction in the near-term to mid-term future will involve smaller work teams on-site.
Looking further ahead, sustainability, i.e. going 'greener', and digitalisation will take centre stage in the long term future of this sector. Businesses must seek to be agile and modify their business models and delivery methods to ensure they grow and thrive in a very different world.
Dennis Lee
Partner & Industry Lead
T +65 6594 7627
[email protected]
Naveen Sasidaran
Partner
T +65 6715 1178
E: [email protected]