As we enter the endemic phase, there are new concerns and considerations the real estate and construction sectors should take note of. During the annual Real Estate and Construction's (REC) in-house training, the REC vertical revisited challenges the sectors faced during the COVID-19 period—covering various tell-tale signs, impacts, and consequences—and what firms can and should do to progress in this new phase.
Green Concerns
With the fast-emerging concerns on Environmental, Social, and Governance (ESG) factors, sustainability, and increased global carbon footprint, local construction and real estate firms have to keep pace to sustain their businesses. Fronting the go green initiative, the Government released the blueprint of the Singapore Green Plan 2030, striving to change the way we live, work, study, and play. More details were released by five ministries in February this year, indicating that the Plan will help Singapore paves its way toward a more sustainable future over the next decade.
Schemes that will Help Shape Sustainability
The Building and Construction Authority (BCA) has rolled out a number of schemes and cash incentives to help firms adopt environmentally-friendly building technologies and building design practices.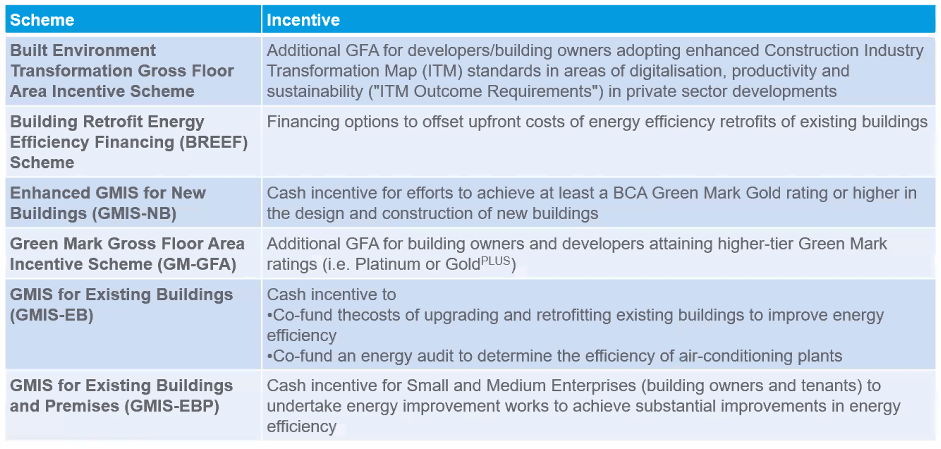 With these schemes and incentives, BCA hopes to speed up and increase the adoption rate of environmentally-friendly building technologies and help firms rebuild a robust workforce. Building owners should also benchmark their energy performance against similar building types.
In addition, the Monetary Authority of Singapore (MAS) responded to the call with their Green and Sustainability-linked Loan Grant Scheme, along with the Enterprise Singapore to offer further assistance. Also, the submission of consultation papers for climate reporting to the Singapore Exchange (SGX) will take full swing by 2023 to give the much needed, additional nudge for firms to go green.
Announced on December 15, SGX has made it official for listed companies including those in the materials and buildings, and transportation industries to submit climate report from financial year beginning 2024. This update is based on the recommendation from the Task Force on Climate-related Financial Disclosures (TCFD).
Going green also equates to making good business sense. By going green, firms can reduce carbon emissions, attract financiers and investors with sustainability drivers, attract buyers and tenants, and reduce OPEX through efficient energy, water, and waste management measures.
Lastly, companies should harness technology, embrace sustainability, and tap on available government or agencies' support to move forward.
To find out more and how we can assist you, kindly reach out to our specialists.
Dennis Lee
Partner & Industry Lead
T +65 6594 7627
[email protected]
Brendon Lee
Director & Deputy Industry Lead
T +65 6594 7412
[email protected]
Fionn Shoo
Director & Deputy Industry Lead, Private Equity Practice
T +65 6594 7946
[email protected]