Forge a Greener Tomorrow with RSM Today
In today's business landscape, businesses are increasingly being held accountable for stakeholder impact, the environment, and the society. It is crucial for businesses to implement responsible and sustainable practices, instead of solely focusing on short-term profit maximisation.
A focused, long-term business strategy that integrates environmental, social and governance (ESG) considerations is imperative to strengthen sustainability ratings.
Investors and consumers are increasingly alert to the growing climate and social issues, both locally and internationally, and have shown increased favour towards companies with transparent, environmentally and socially responsible business practices. Against this backdrop, the regulatory environment has evolved; the Singapore Exchange ("SGX") has mandated annual climate reporting for listed issuers from FY2022. Companies with a proactive Environmental, Social, and Governance ("ESG") strategy are best-placed to navigate this increasingly complex business and regulatory environment, but efforts are often complicated by various competing ESG frameworks and standards.
HOW CAN A SUCCESSFUL ESG STRATEGY BENEFIT YOU?

A growing number of companies actively integrate ESG strategies in their business implementation, not only to comply with regulations, but also to achieve higher and sustainable long-term growth. In other words, having strong ESG credentials help companies realise actual benefits. These include: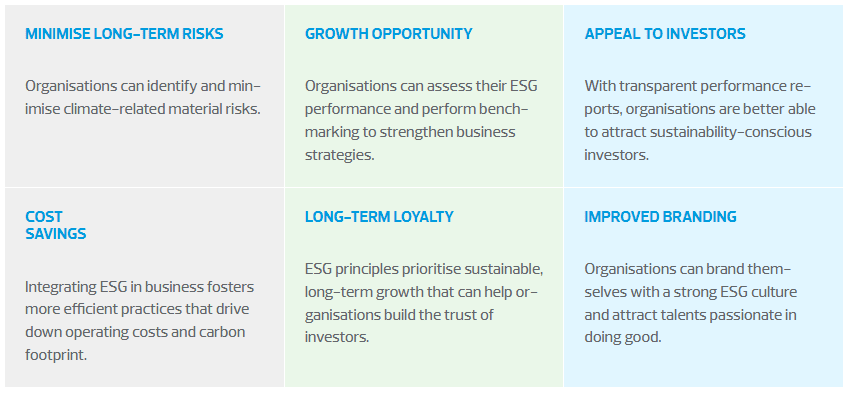 To remain competitive and gain business advantages, SMEs must embrace sustainability. Going green not only enhances brand reputation and attracts talent but also mitigates environmental impact. In this endeavor, leaders play a pivotal role in driving sustainable practices. By embracing digital technologies and obtaining certifications, SMEs can further bolster their sustainability efforts. Additionally, involving the value chain and fostering the development of workforce skills are vital steps for SMEs to take action towards a more sustainable future. For more insights, read the full article here.
Why RSM?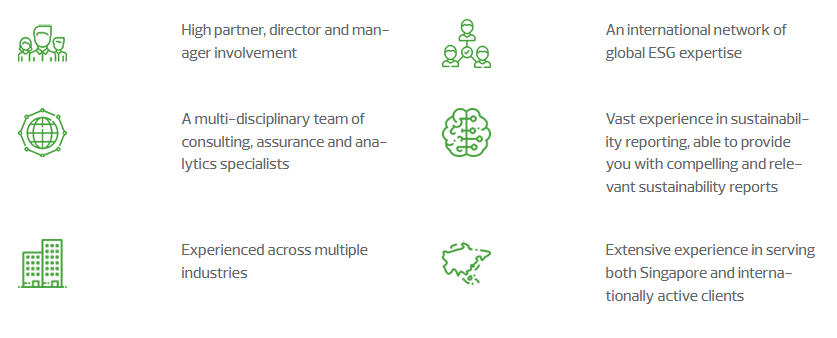 START YOUR ESG JOURNEY WITH RSM
Talk to our dedicated team of ESG specialists today. We provide a comprehensive suite of services to help you develop your ESG strategy, manage climate-related risks, navigate regulatory requirements, and streamline the reporting process through the use of technology.
ISSB Sustainability Disclosures Report
As sustainability takes center stage and Singapore moves towards adopting the International Sustainability Standards Board (ISSB) disclosure standards, businesses must prepare for mandatory sustainability reporting.
Explore the "5 Whats and 5 Hows" of these global standards in our report to understand their impact on your business and pave the way for a greener, more responsible future.
Contact us
Complete this form and an RSM representative will be in touch.