As the world returns to normalcy in the wake of the Covid-19 pandemic, businesses across sectors are reviving themselves using various sustainability and business continuity measures. It is essential for companies to understand that while the pandemic remains a "temporary crisis", the large scale impact posed by climate change is vastly more significant and must be addressed with urgency. Industrial activities and business operations are a major contributor of harmful greenhouse gases that get released into the atmosphere. These greenhouse gasses' effects may lead to calamities including severe droughts, storms, heat waves, increasing sea levels, glacier melt, and warming oceans (JACQUES, 2022). Countries and businesses across the globe are now turning towards renewable energy solutions to tackle this long-drawn challenge as part of a new age of ESG practices.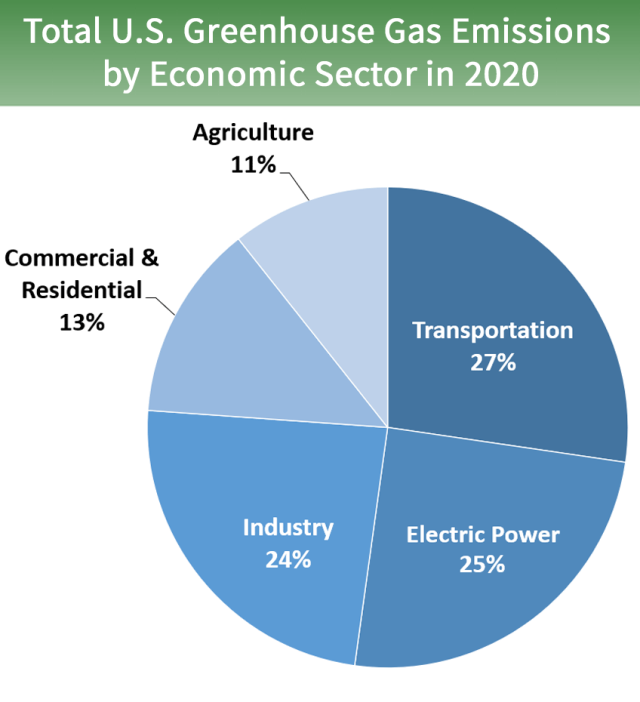 Figure 1
Impact of climate change on logistics and transportation industries
The greatest potential hazard posed by climate change on supply chains today is from the impact of rising sea levels. Prior to this, supply chain disruptions caused by hurricanes, floods, wildfires, and other extreme weather conditions had already begun shaking the world economy; much before rising sea levels started flooding ports and other coastal infrastructure (JACQUES, 2022).
Based on the graph above, even at the start of Covid-19 pandemic when movements were restricted, the transportation industry contributed close to one-third of greenhouse gas emissions in a developed economy like the United States. These numbers will continue to increase further as borders have reopened and impose greater threats to our environment. Logistics and transportation industries produce harmful gases directly from the fuels of delivery vans and ships, as well as indirectly through the use of warehouses used for storage and material handling processes. Warehouses consume significant amounts of electricity to run operations. As such, it follows that electricity is the 2nd largest contributor of emissions, standing at 25% as shown in the graph. To reduce the impact of businesses on climate change, governments across the globe have begun to introduce initiatives to ensure environmental sustainability. What are some measures introduced by the Singapore government and how does it benefit businesses as well as the environment?
Renewable Energy Solutions in Singapore
Singapore is looking to use decarburisation energy supplies such as natural gas, solar, regional power grids and low carbon alternatives to promote sustainability. In particular, this involves maximising solar deployment and using Energy Storage Systems (ESS) to manage solar intermittency. Solar energy is the most viable renewable energy resource to deploy in Singapore. For one, no carbon emissions are produced when using this energy. It does not require the import of fuels, which then enhances Singapore's energy security. The cost of solar energy has gradually been decreasing, and is now generally cheaper than the retail electricity price and regulated tariff, making it a lucrative option for many.
There are two categories:
Building independent solar panels (Solar Ownership)
More suited for building owners as it would allow them to customise specifications needed for the solar grids. Building owners will bear any upfront costs for installation but can reap the benefits from:
Offsetting their electricity consumption/bills;
Selling excess solar-generated electricity back to the grid.
Leasing the solar panels (Solar Leasing)
​External system operators will build solar panels for the buildings. The upfront installation costs are borne by the operators. The building owner will then purchase the generated solar energy from the system operator at a discounted rate off their electricity tariff rates. This is the most popular approach adopted in the market as businesses can enjoy several advantages such as:
No upfront capital costs;
Cost of electricity is lower than buying from the mainstream electricity providers;
Energy pricing can be negotiated and fixed over the long term with the solar vendor;
Vendor takes on the operating costs, maintenance and risks of the solar photovoltaic (solar PV) systems; and
Enhanced cost control and planning.

An example of a company that deals with leasing out solar panels is Cleantech Solar. Cleantech Solar is a developer that finances, constructs, owns and operates solar photovoltaic projects (Cleantech Solar, 2022). The business bears the upfront cost of installation and leases them out to companies who only pay for the power utilised. There are a few companies who currently use solar leasing such as Kuehne + Nagel, Cutech, Yamazaki Mazak and GlobalFoundries.
Government schemes/ grants available:
1. JTC Corporation: SolarRoof Programme
This programme is one of the first solar energy business models in Singapore that fully exports solar energy generated on the rooftops of buildings straight to the national power grid. Under this programme, buildings do not need to have their own solar panels. Instead, consumers can purchase solar energy directly from the grid via a solar retailer. By combining the need for solar PV installation across various JTC buildings, the program's first phase was introduced in 2017. To increase the adoption of solar power across industrial buildings, JTC expanded the program with a second phase that began in February 2021.
2. Building Retrofit Energy Efficiency Financing (BREEF)
The programme is directed towards those who would like to own a solar PV system. This scheme provides financing to offset high upfront costs, including loans of up to $4 Million and 5 years' tenure. Interest rates are determined by private financial institutions (PFIs). The Building and Construction Authority (BCA) has partnered with financial institutions (FIs) to provide loans for energy efficiency retrofits by providing a 40% default risk share. However, the projects are required to meet the minimum required Green Mark certified rating. Green Mark certifications are given by the BCA, for which consumers can apply online.
Link: BCA Green Mark Online Submission
3. BCA's Green Mark scheme
To become eligible for this programme, building owners are required to meet a minimum bench mark of 55% in energy efficiency improvement (Platinum status). Based on the level of carbon emissions abated by the owner, they may receive grant supports of up to $1.2 million. Green Mark certifications are given by the Building and Construction Authority (BCA), for which consumers can apply online.
Link: BCA Green Mark Online Submission
Companies who uses solar energy:
Laurent Simon, Managing Director of Kuehne + Nagel, Singapore and Malaysia:
"Kuehne + Nagel has a clear goal to minimise environmental impact and the use of renewable energy is an integral part of our sustainability targets. Solar-as-a-service is the ideal extension to this logistics hub which was built according to the highest environmental standards. As a service provider, Kuehne + Nagel is a solid partner in energy efficiency and sustainable logistics and is committed to aligning with the environmental goals of our customers." (Kuehne + Nagel Singapore, 2017)
Since June 2017, newly installed rooftop solar systems by Cleantech Solar is expected to deliver 20 percent of the electricity requirements for the Kuehne + Nagel Singapore Logistics Hub at Pioneer Crescent. The 844.8 kWp solar system will generate over 1,000 MWh per annum, representing 11,700 tons of CO2 to be saved over a 20 year partnership. (Kuehne + Nagel Singapore, 2017)
The Kuehne + Nagel Singapore Logistics Hub is BCA Green Mark Platinum and LEED GOLD certified. The 50,000 sqm built-to-suit facility has been in operation since January 2016, offering both standard warehousing services and a centre of excellence for high-tech, industrial, pharmaceutical and healthcare customers providing supply chain optimisation and value-chain transformation solutions. (Kuehne + Nagel Singapore, 2017)
If you would like to tap into our professional consultancy services for your logistics and transportation business, please contact:
Lee Mong Sheong
Partner & Industry Lead, Logistics & Transportation Practice
T: +65 65947865
[email protected]
Yeow Thuan Wee
Partner & Deputy Industry Lead, Logistics & Transportation Practice
T: +65 6715 1168
[email protected]
References:
JACQUES, L. (2022, March 10). How Climate Change Is Disrupting the Global Supply Chain. Retrieved from: https://e360.yale.edu/features/how-climate-change-is-disrupting-the-global-supply-chain
Green Mark Department. (2021). Green Mark 2021 certification standard [PDF]. Retrieved from: 20211028_certification-standard_r1-1.pdf (bca.gov.sg))
Kuehne + Nagel Singapore. (2017, June 14). Kuehne + Nagel Singapore and Cleantech Solar enter into 20-year solar energy partnership. Retrieved from: https://newsroom.kuehne-nagel.com/kuehne--nagel-singapore-and-cleantech-solar--enter-into-20-year-solar-energy-partnership/
Cleantech Solar. (2022). Retrieved from: Cleantech Solar | Solar Energy Solutions
Figure 1: Sources of Greenhouse Gas Emissions | US EPA