Philanthropic Efforts

We believe in giving back to society. Besides sponsoring some book prizes and bursaries of various local polytechnics, the company also matches dollar for dollar, all staff contribution to the SHARE (Social Help and Assistance Raised by Employees) programme that was started since 1993. 
Other ad-hoc support for charity includes:
2022
RSM Green Pledge Day
On 13th May 2022, the RSM family came together to share their Green pledges. This event served as a good reminder for us to be more environmentally conscious of our actions in and outside of the workplace. RSM is committed to reducing our carbon footprint and encouraging our staff to build a workplace that is environmentally friendly. 
2021
Getting #Fit4aCause
Our teams in Singapore, Malaysia, and China embarked on a journey to get #Fit4aCause. For 10 weeks from 1 October 2021, we walked, ran, swam, and cycled to clock in 105, 534 km, far exceeding our target! Our efforts raised SGD360,000 for various charities in the three countries.
#Fit4aCause Fun Facts

Three weeks to hit 36,000 km

"Went around" the world about 2.6 times

 
 

 
 

The leading team "went around" Singapore 

87.2 times

The leading individual covered about 

2,081.6 km

 
 
Gift Of A Lifetime - The GOAL Sponsorship Scheme
We are pleased to support the Gift of a Lifetime (GOAL) campaign of Special Needs Trust Company (SNTC).
GOAL is a sponsorship scheme to help parents purchase a $100,000 term policy so that the insurance proceeds can be paid into the child's SNTC trust account upon the demise of the life insured.
GOAL campaign will run from 1 October 2021 to 30 September 2022.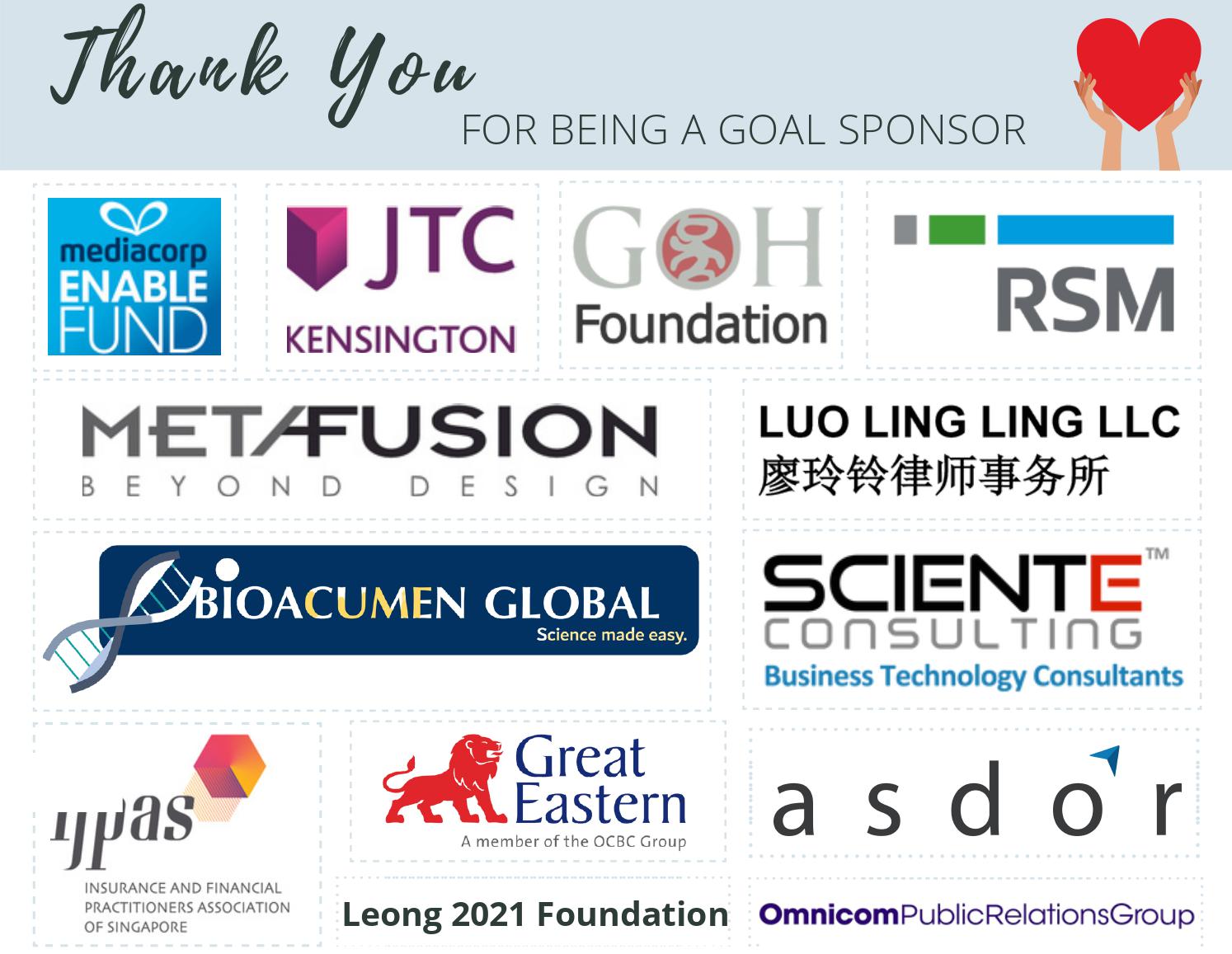 Taking a Swing for Charity
RSM Sr. Partner Kaka Singh and Partner David Eu took a swing for charity at the Singapore Heart Foundation's charity drive.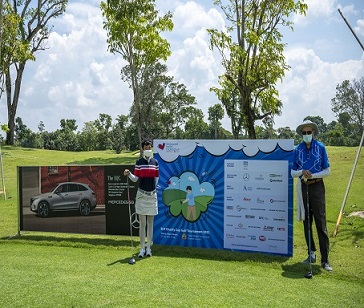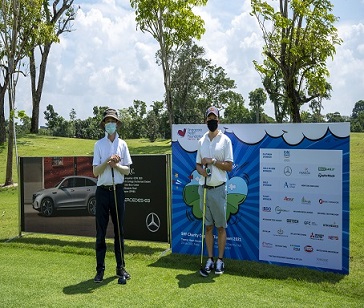 Playing a Part to Drive the Blues Away
RSM Partner David Eu received a token of appreciation on behalf of RSM Singapore for donating to Lions Befriender's "Swinging Off Loneliness" – a charity drive that aids seniors living alone who are at risk of further decline in their mental, emotional, and physical health during this pandemic period.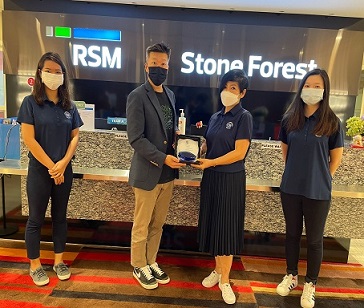 We are proud to be a contributing partner of Care Corner's Carevolution initiative. 
Impact through inspiration E-ideation 2021 @ North West
RSM is proud to support our youths in 'Impact through inspiration E-Ideation 2021 @ North West', an initiative by the NTU Welfare Service Club – Growth & Opportunities ("GO!") to encourage our young to realise innovative ideas to promote sustainable development and make Singapore a better place for the elderly in Singapore.
Passion is at the core of our value system.  Besides the passion to help growing businesses, passion to us is also having the heart for the community and to support and help groom our next generation. We hope to see more youths being involved in such worthy causes and to make an impact in our community!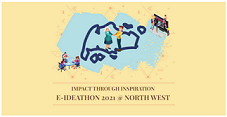 Bringing on the Festive Cheer in Time for CNY!
What can be more satisfying than seeing the elderlies smile and live in an improved environment? On 16 January, a team from RSM joined other volunteers in Project Refresh to spring clean and repaint the homes of the less able-bodied elderlies in Radin Mas, in time for the Chinese New Year. This initiative  by the Radin Mas Community Club also targets to replace 600 old beds and beddings in these households.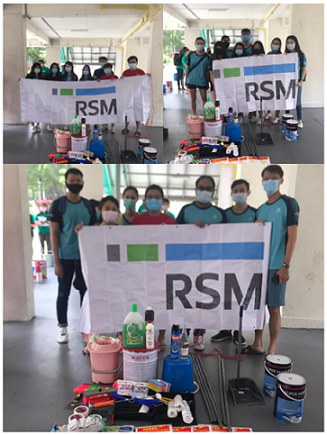 2020
35 Million Steps Challenge
1,200 of our staff in Singapore, Malaysia, and China stepped up to the 35 million steps challenge with fun trails through national parks, reservoirs, hills, nature reserves, and even shopping malls, to raise a total of S$350,000 for charities in the three countries. This charity drive was organised to mark our 35th Anniversary. Through this walk, our staff at their respective location also strengthened their bonds that translated into even more cohesive work teams. Catch our staff in action by clicking the banner below.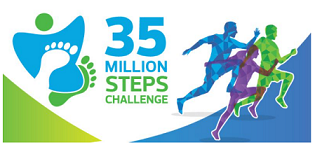 RSM Reads for a Good Cause 
RSM helped raise 1,000 books in this year's Read for Books Charity Drive by the National Library Board ("NLB"). For every 10 people who read for 15 minutes in an organisation, NLB would donate one book to WondeRead. The books, sponsored by Scholastic Education International (Singapore) Pte Ltd benefitted 838 children from 16 social service agencies. This charity book drive aimed to promote reading and share the joy of reading with the less privileged.  
RSM is also a participating organisation of NLB's Read @ Work programme aimed at inculcating good reading habits and reading culture within organisations. Tay Woon Teck, Partner of RSM, has been organising book reading sessions in the organisation—starting with the Advisory department—with resounding success. The latest book featured was Grit by Angela Duckworth.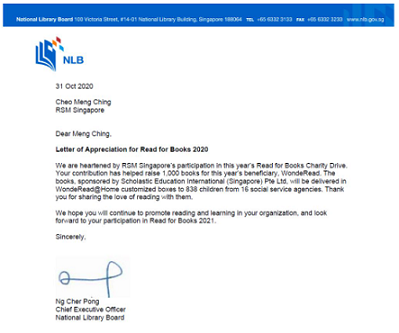 2019
RSM donates to  St Luke's ElderCare through Christmas charity drive 
RSM closed 2019 on a positive note for a good cause where we contributed $6,488 from our "Christmas Charity Bazaar 2019" to St Luke's ElderCare. Mr Chee, CSR Head of RSM, presented the donation to Mr Benjamin Poon, Asst Manager of Communications & Partnership of St Luke's ElderCare.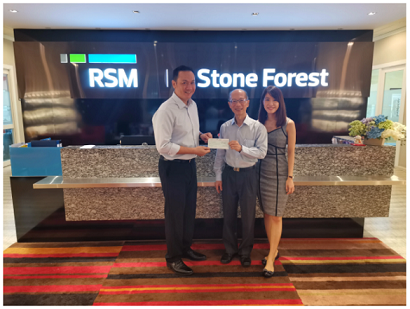 RSM spring clean the homes of 10 households residing at Radin Mas neighbourhood
Jointly organised by RSM, Zhang Clan and DCS Synthesis, more than 50 volunteers turned up for the event on 28 Dec 2019, and rolled up their sleeves to spring clean the homes of 10 needy families living at the Radin Mas neighbourhood.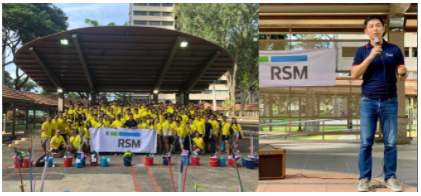 RSM supports National Kidney Foundation's 'Sit-A-Thon'
RSM volunteers once again joined the National Kidney Foundation's 'Sit-A-Thon' on 24 and 25 August 2019 to inspire positive changes in the daily lives of the community for good kidney health. Activities during the eight-hour session included a challenge where participants pedalled for 50 minutes on stationary bikes.
RSM volunteers spring clean the homes of 25 elderly and needy residents residing at the Kembangan-Chai Chee district
Over 130 RSM volunteers took part in the spring cleaning activity on 1 Jun 2019, which saw them decluttering, cleaning and sprucing up the homes of 25 fellow elderly and needy residents living in single rented flats at the Kembangan-Chai Chee district. We are humbled by the presence of Mr Tan Chuan-Jin, Speaker of the Parliament of Singapore, who supported the event and gave an enlightening speech to the group of volunteers.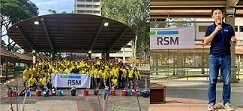 RSM receives 1000 Enterprises for Children-in-Need Award
A  heart-warming event at the 1000 Enterprises and 1000 Philanthropists for Children-in-Need Appreciation Dinner held on 19 March 2019 organised by the Singapore Children's Society. This is the second year RSM participated and supported the Singapore Children's Society's 1000E fund-raising programme which aims to provide help for children in need.
Woo E-Sah, Partner & Industry Lead for NPO Practice, represented RSM to receive the Award from Deputy Prime Minister Teo Chee Hean, who graced the event as the guest of honour.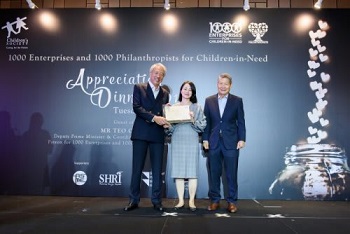 RSM 2019 "New Hopes, New Futures" Calendar
Our 2019 calendar featured artworks from inmates of the Visual Arts Hub (VAH) of the Singapore Prison.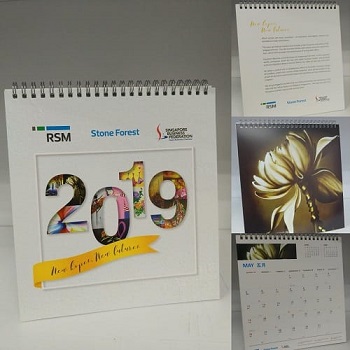 2018
Preparing meals for the needy at Willing Hearts soup kitchen
Our volunteers cooked up a storm at the Willing Hearts soup kitchen on 24 November 2018 where they prepared and distributed meals to the needy in Singapore.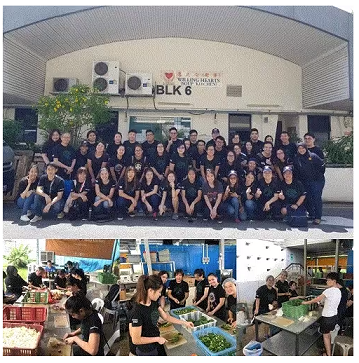 RSM joins National Kidney Foundation's 'Sit-A-Thon'
RSM volunteers joined the National Kidney Foundation's four-hour 'Sit-A-Thon' on 15 September 2018 to better understand what it is like to be in kidney patients' shoes during their thrice-weekly dialysis sessions that last just as long. The event also sought to raise awareness on the importance of kidney health.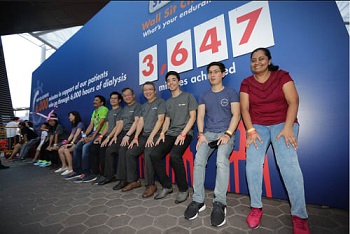 RSM receives 1000 Enterprises for Children-in-Need Award
RSM was presented a 1000 Enterprises for Children-in-Need (1000E) Award in recognition of our participation as a Leading Enterprise supporting Singapore Children's Society's 1000E fund-raising programme, which aims to transform the lives of children in need.

Sovann Giang, Senior Director, Risk Advisory & Deputy Industry Lead, NPO Practice, represented the firm at an appreciation dinner on 16 March 2018 to receive the Award from Deputy Prime Minister Teo Chee Hean, who graced the event as Guest of Honour.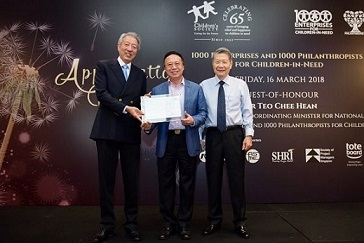 2017
SASCO Senior Citizens' Home (SSCH) mid-autumn festival celebration
Elderly residents from SASCO Senior Citizens' Home were treated to an afternoon of fun art and tech, in celebration of the mid-autumn festival. Forty volunteers from RSM initiated the more adventurous elderly to online games and helped the rest paint personalised creative lanterns.
Supported Canossaville Children and Community Services' transition to their new classroom
14 team members helped with stock taking, asset tagging, packing and moving of items.
Raymond Lee, a volunteer engagement executive from Canossaville, expressed his gratitude, "Thank you for helping to mobilise volunteers on 20th October. It was honestly not an easy task given the wide variety of items, handling of heavy items, differing expiry dates and limited space for sorting and packing. I'm very grateful for all the support. I was very touched to see volunteers pushing past 6 pm to complete the stock-take despite how tiring the entire process was. Thanks to the volunteers' time and effort, we now have a clear overview of our inventory at a glance. On top of that, the items have all been packed neatly into the respective boxes, facilitating our move to the new block sometime in mid-Nov 17. Thank you so so so much for everything."
Chinese New Year celebration with elderly residents from SASCO Senior Citizens' Home
Team members and residents engaged in light exercises, fun activities and a Lo Hei lunch.
Supported the 1000 Enterprises for Children-in-Need ("1000E") programme as a Leading Enterprise
Donation helps the Singapore Children's Society protect as well as nurture children and youths in need.

 
2016
Adventure and discovery with Canossaville Children's Home
Volunteers and over 50 kids from CCH visited KidsSTOP to participate in educational activities.
Support Frost the Trail 2016 corporate charity run
Runners from RSM joined over 600 other participants to raise $120,000 for Peace Connect and Bright Hill Evergreen Home.
Donation to Singapore Cheshire Home for expenditures on Christmas lucky draw prizes and events (for residents and day care clients)
2015
RSM organises Charity Walk-a-Jog cum Carnival
The event celebrated the group's 30th Anniversary and served as a platform to give back to society by raising donations for the underprivileged to help improve their lives.
Over 1,000 participants took part in the event.
Visit to Bollywood Veggies farm with Canossaville Children's Home
Guides brought over 25 volunteers and the children from CCH on a tour of the farm and shared tips during a hands-on gardening class.
Donation to Singapore Cheshire Home for expenditures on Christmas lucky draw prizes and events (for residents and day care clients)
2014
Christmas Lunch for the elderly at SASCO Senior Citizens' Home
Team members served lunch to over 80 residents and organised an afternoon of games and activities.
Celebrating Children's Day with young ones from Canossaville Children's Home
35 volunteers from the firm accompanied over 50 children from CCH to Amazonia's indoor playground for an afternoon of fun and educational challenges.
Partnered Singapore Cheshire Home to sell their handicrafts on International Accountants Day 2014
2013
SBA Stone Forest donates computers to Huang Ba primary school for the setting up of learning lab.
In May 2013, SBA Stone Forest donated 30 PCs to Huang Ba primary school in Dejiang Village, China. 
Students were able to familiarise themselves with the use of computers from a young age and promote learning through engaging and interactive tools.
2012
Participation in Frost the Trail 2012, a corporate charity run organised by Frost and Sullivan. 
40 runners from audit took on the 5km team challenge. 
A total of $5,000 was raised for the Bright Hill Evergreen Home - a non-profit nursing home. 

Over $5,000 was raised for the Singapore Cheshire Home and the Lion Befriender's Club to purchase necessities for the elderly.

 
2011
Firm teams up with Food from the Heart once again to distribute food to needy families and the elderly. 
$13,300 was raised and went into buying essential food items, including cooking oil and rice, for the recipients. 
50 staff members volunteered to help with the distribution of the food goodie bags at 11 locations across the island.
2010
25th Anniversary CSR Initiative
Raised $32,000 for The Business Times Budding Artists Fund
30 staff volunteered for Children for Children @ Underwater World project on Children's Day
Key sponsor for Toys Buffet 2010 by Food from the Heart
2009
One of the key sponsors for myMosaic, and to support our client - Chye Lee & Sons Pte Ltd - and its adopted charity, the SACS Family Care Centre.

Raised $103,838 for The Straits Times School Pocket Money Fund. Guests were invited to donate money in lieu of sending flowers for its new office opening and the sum was matched dollar for dollar. Read more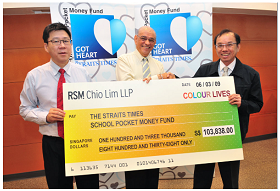 2008
Key sponsor for Project Summer on Sand (SOS), a community service project organized by SMU Tritouch Connexion from May to July 2008 for the EN Community Services Society and Chen Su Lan Methodist Children's Home.

Contributed close to $90,000 to 15 charities, they include Children's Cancer Foundation, Singapore Cancer Society, The Spastic Children's Association of Singapore and Chung Hwa Free Clinic.
2007
Contributed over S$100,000 to various charities.
2006
More than 10 charities benefited from firm's donation of close to S$120,000. These charities include Chung Hwa Free Clinic, Man Fut Tong Nursing Home, Ren Ci Hospital and the SGX Bull Run.
2005
Donated close to S$120,000 to several charities including the Singapore Red Cross Society, the SGX Bull Run and the Rotary Club of Queenstown which received S$10,000 each.
2004
Produced and sponsored a 2005 desk calendar with the theme of "A Tribute to Growing Businesses" to commemorate the 20th Anniversary of the firm's founding. Together with a handful of clients, S$168, 000 was raised for the benefit of 16 charities.

Management and staff of the firm also raised close to S$22,500 for the Singapore Red Cross Society Humanitarian Assistance to the victims of Tidal Waves Asia.
2003
Donated S$70,000 to several charities.
2002
Donated S$100,000 to 10 charities.
2001
Produced and sponsored the sale of calendars in aid of Chung Hwa Free Clinic. A total of S$35,000 was raised.
2000
A charity drive in aid of the Home Nursing Foundation was organised, where S$77,700 was raised.