Need help choosing the right cloud-based tools to organise and automate your business?
We can help automate and systemise your entire business with the latest cloud-based tools and technology. Book in your session today and find out what tools are right for your unique business!
Do you feel like your business is living in the dark ages?
Does your business still rely on outdated systems such as paper, excel spreadsheets and Outlook to manage clients and contacts?
Do you want to take advantage of the latest cloud-based tools and technology to create a smarter, faster and more automated business … but you're feeling overwhelmed by all of the different solutions available on the market?
Have you spent hours (or even days) researching different solutions only to feel more confused and overwhelmed than when you first began?
Do you feel uncertain and unsure about what tools, technology are going to be right for your unique service-based business?
If you answered "yes" to any of the above questions, then we know exactly how you feel and we're here to help.
Are you suffering from digital overwhelm?
Every day we speak with service-based business owners who desperately want to upgrade their business with the latest tools and technology, but are feeling frustrated and confused by the overwhelming number of solutions out there. You could literally spend weeks researching and testing different cloud-based solutions only to feel more and more confused. You could even sign up and start using a new tool, only to accidentally choose the wrong one because you don't know what you're doing. But it doesn't have to be that way…
Finally, get help choosing the right cloud-based tools to streamline and automate your business
RSM's Digital Services team takes the pain away from sorting out your business systems so that you can focus on what you love. We provide the high level strategy as well as optional implementation and ongoing support for business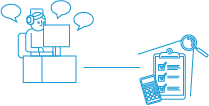 owners who want everything done for them.
How the Digital Discussion works
You can get started right now. Yes, right now. Pop in your name and email address below and you'll get instant access to the checklist and can book your 45-minute chat with an experienced digital adviser.
Sign up online - pop in your name and email address to get started for just $45.00 + GST
Fill in the checklist - it will take you 5-10 minutes to complete this
Book in a time for your review - you will be directed to an automated booking calendar
HERE'S WHAT WE WILL COVER IN YOUR FREE SESSION:
An overall assessment of where you are at with your business in terms of technology
Where the gaps are in your cloud-based system
What are some of the easy wins you can start with to get ahead
Whether or not you require further assessment
HERE'S ARE A FEW THINGS WE WILL NOT COVER IN THE SESSION:
Final recommendations on software you should use in your business
Specific advice around your business processes
Financial advice – although we can recommend tools to get you financially well organised
---