We can help you choose and implement the right cloud based tools to automate your entire business.
Selecting and implementing the right technology in your business can be overwhelming and confusing. RSM provides a digital service around this process so that you can rely on a trusted adviser to streamline your business processes using the latest technology.
What is 'the Cloud'?
When people refer to the cloud, they are talking about applications that can be accessed in any web browser, and on phones and tablet devices using apps. Your information is hosted securely by the application provider. There are often monthly or annual subscription fees to use these applications.
What are the benefits?
Grow and scale using individual tools
Meet your exact business needs
Keep your costs low and on a per user basis
Lower your IT budget long-term
How does being in the cloud streamline my business?
Many of these applications share information with each other, meaning that you only have to enter information in one place and it can update in multiple areas. Staff administration time can be reduced dramatically through automation of certain processes in your business.
Thinking beyond your accounting package
At RSM, we're thinking about how your business operates beyond the accounting package that you're using. Whether you're already on cloud accounting or making the move, we use this as a starting point in moving other areas of your business to the cloud.
Our framework
We evaluate your business against a framework of over 35 areas to ensure that we have a deep understanding of your processes and existing technology:
accounts management
customer relationship management
email marketing management
email, calendar, contact and file storage management
expense management
human resource management
inventory management
password management
payment management
payroll management
project and task management
proposal management
reporting management
rostering and timesheet management
website management
Our digital audit process
Step one
A digital analyst will meet with you to review your existing applications and processes (cloud and non-cloud based) with support from your existing RSM contact.
Step two
We review your current situation and do the necessary research to make the right application recommendations for you.
Step three
You receive a digital audit report, which outlines our recommendations and action plan in writing. We will review this with you and work out your next steps.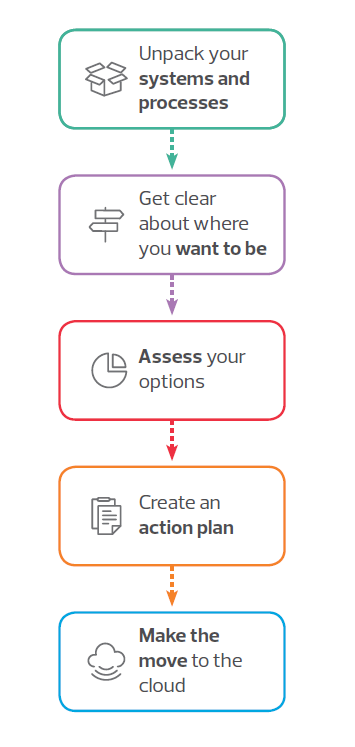 Assistance with implementation and ongoing support
RSM is here to support you on your technology journey. Whether you choose to move to the cloud step by step or have a few changes in mind that need to happen at once, we will be here to walk you through the process and ensure that your implementation goes according to plan. Once you're operating with your new technology, we can also provide ongoing support around your chosen applications.
Your next steps
Speak to your existing business adviser about undertaking a digital audit. They will walk you through the process and ensure that all your questions are answered.